Gold Jumps Back Above $1800 As Bitcoin Drops $2000 From Record High
After testing new record highs overnight, just shy of $20,000, Bitcoin has tumbled $2000 this morning...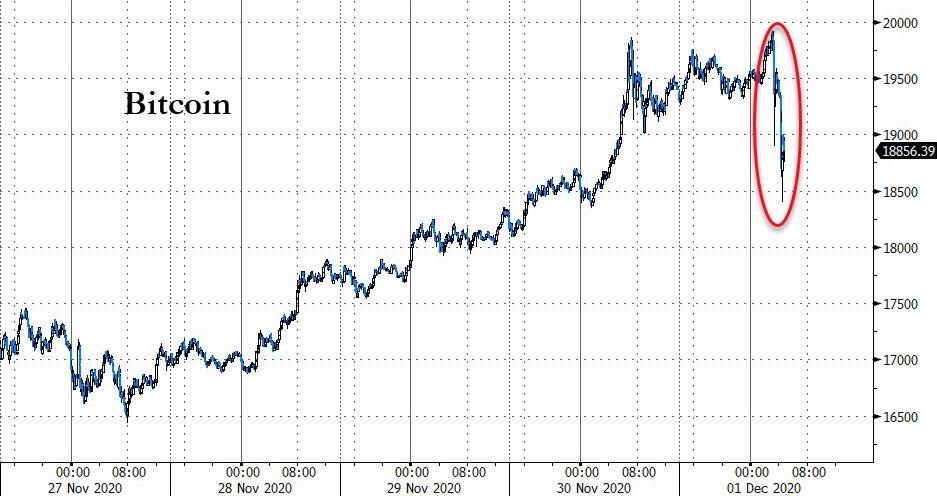 Source: Bloomberg
The entire crypto space is also getting whacked...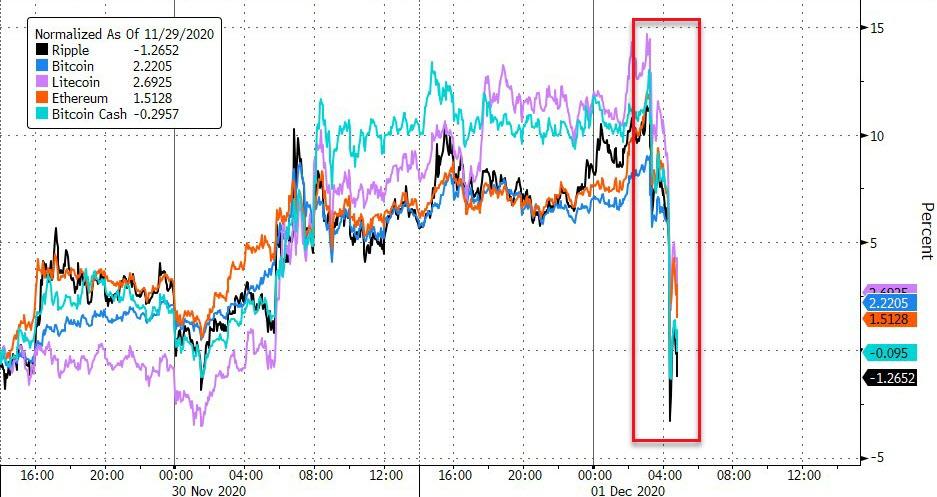 Source: Bloomberg
And at the same time, gold has surged back above $1800, erasing last week's sudden plunge...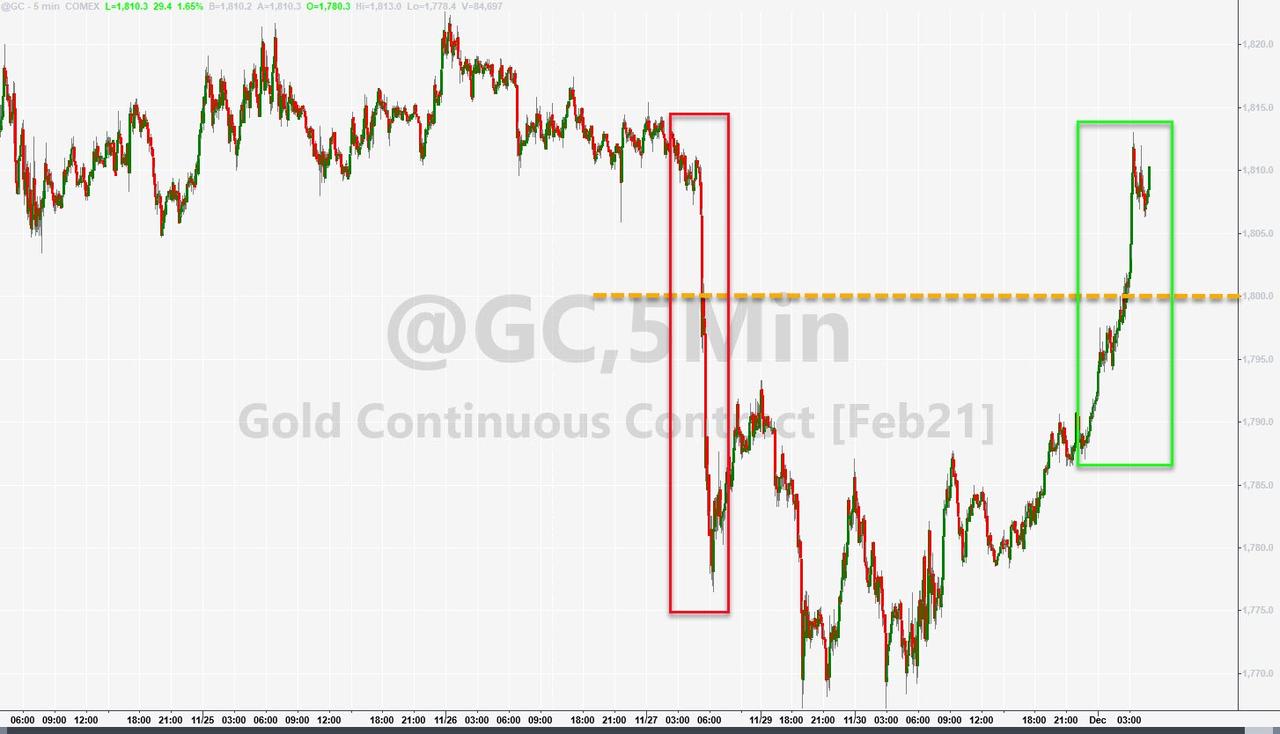 Is the gold-to-bitcoin rotation unwinding?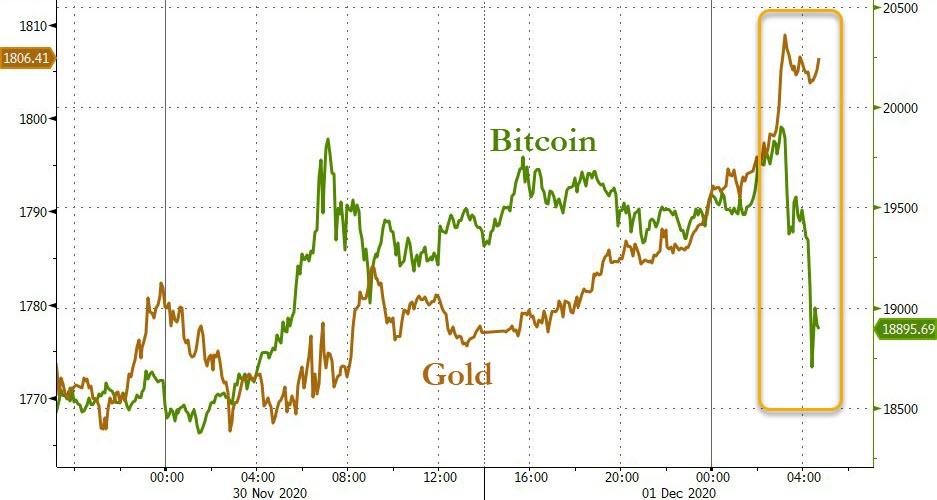 Source: Bloomberg
Interestingly, Ethereum also took a big hit...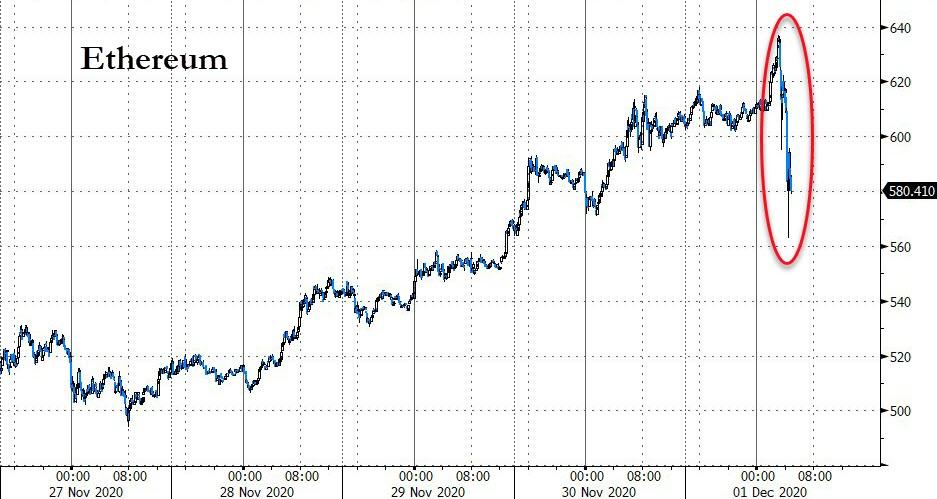 Source: Bloomberg
As Ethereum 2.0 Beacon Chain goes live. As CoinDesk notes, today's launch concludes the opening act, or "Phase 0," of Ethereum's consensus mechanism transition, which will see the network – whose native cryptocurrency, ether, is worth $70 billion by market cap – fundamentally change how it settles payments while in motion.
"The launch of the beacon chain is a huge accomplishment and lays the foundation for Ethereum's more scalable, secure, and sustainable home," Ethereum Foundation researcher Danny Ryan told CoinDesk in an email. "There is still much work to do, but today we celebrate."
The Beacon Chain will be the backbone of a new Ethereum blockchain, a network intended to keep pace with PayPal and Visa in terms of processing speed while rivaling them in terms of transparency and payment finality.
As CoinTelegraph points out, the transition to PoS paves the way for future planned upgrades to be implemented, such as sharding to improve scalability.
Currently staked ETH are likely to be locked up until Phase 1.5 of the Ethereum 2.0 rollout, currently planned for late 2021 or early 2022. This will see the current Ethereum mainnet merge with the new beacon chain and sharding system.
Anticipation for the Eth2 launch has been building throughout 2020 and has been reflected in the price of Ether, which started the year at just $130 but is currently riding high at over $600.
The launch will be especially welcomed by those in the decentralized finance community. The explosion of DeFi during 2020 saw a huge increase in traffic and gas fees on the Ethereum network.
Disclaimer: Copyright ©2009-2020 ZeroHedge.com/ABC Media, LTD; All Rights Reserved. Zero Hedge is intended for Mature Audiences. Familiarize yourself with our legal and use policies every time ...
more