Gold Is Still A Bargain
In investing, as in life, perspective is everything.
To some, gold at $1,525 as we started out 2020 seemed expensive. Today, it's trading at $1,940, producing a 27% gain.
And yet, from several viewpoints, gold still looks cheap at current prices. Debt, easy money, and geopolitical risks are ever-present. And these have all been tough on the U.S. dollar. Ongoing weakness in the greenback looks set to continue, providing a huge tailwind for gold prices.
So much, well beyond the kitchen sink, has been thrown at trying to support the economy and kick-start activity. Yet we can't ignore vital indicators. Negative-yielding debt levels, ongoing negative real interest rates, and anemic money velocity despite exploding money supply mean rising hard asset prices look inevitable.
I think 2021 will see these trends continue. As a result, I expect gold will not only regain its all-time high set in August but establish a markedly higher new record level this year.
As a result, gold at $1,940 is likely to look like a bargain by the end of 2021.
Economic Activity Is Weak, For Now
Some charts are important for investors to know and understand. But few, if any, surpass a comparison of real interest rates with the price of gold. One thing is certain, gold investors need to keep a close watch on it.
The visibly high negative correlation between these two assets is undeniable.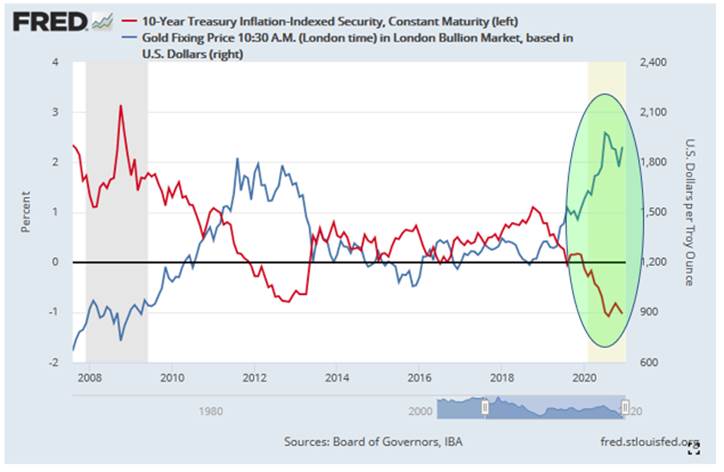 As a result, investors need to ask themselves what direction they think real rates will follow from here. I'd simply like to point out that, since late 2019 when real rates crossed into negative territory then headed sharply lower, kicked off a big rally in gold.
If someone argues that gold doesn't pay a dividend, you can tell them neither do many "safe" bonds, which now lose money instead.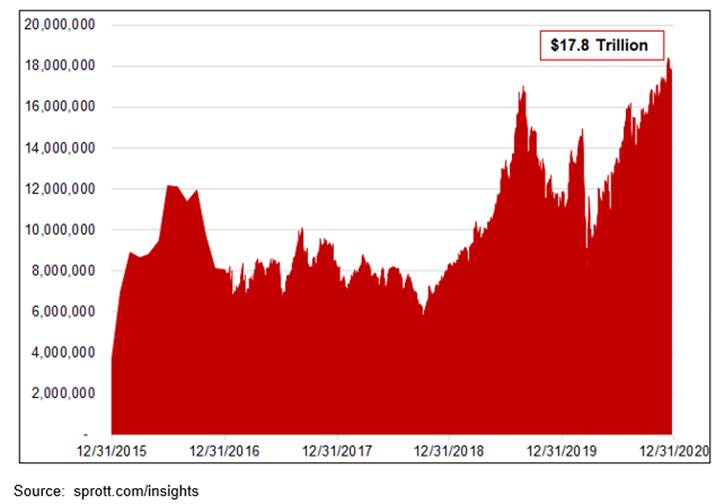 Global negative-yielding debt is close to an all-time record of its own, nearing $18 trillion as we begin 2021. How long are pension funds and other institutional investors likely to keep pushing such bonds higher when they guarantee the holder a negative return, even before accounting for inflation?