Gold Investors: All Eyes On The Striking Implications Of The 2012-2013 To Now Link
On the bullish note, last week's reversal was confirmed by significant volume, which adds to its credibility.
Should we, therefore, take last week's candlestick regular implications into account, or should we pay attention to the most recent analogy? Should we view it as bullish or bearish? Both interpretations have their merits, so it seems prudent to view last week's performance as neutral. This means that it didn't change the very bearish implications for the next several months.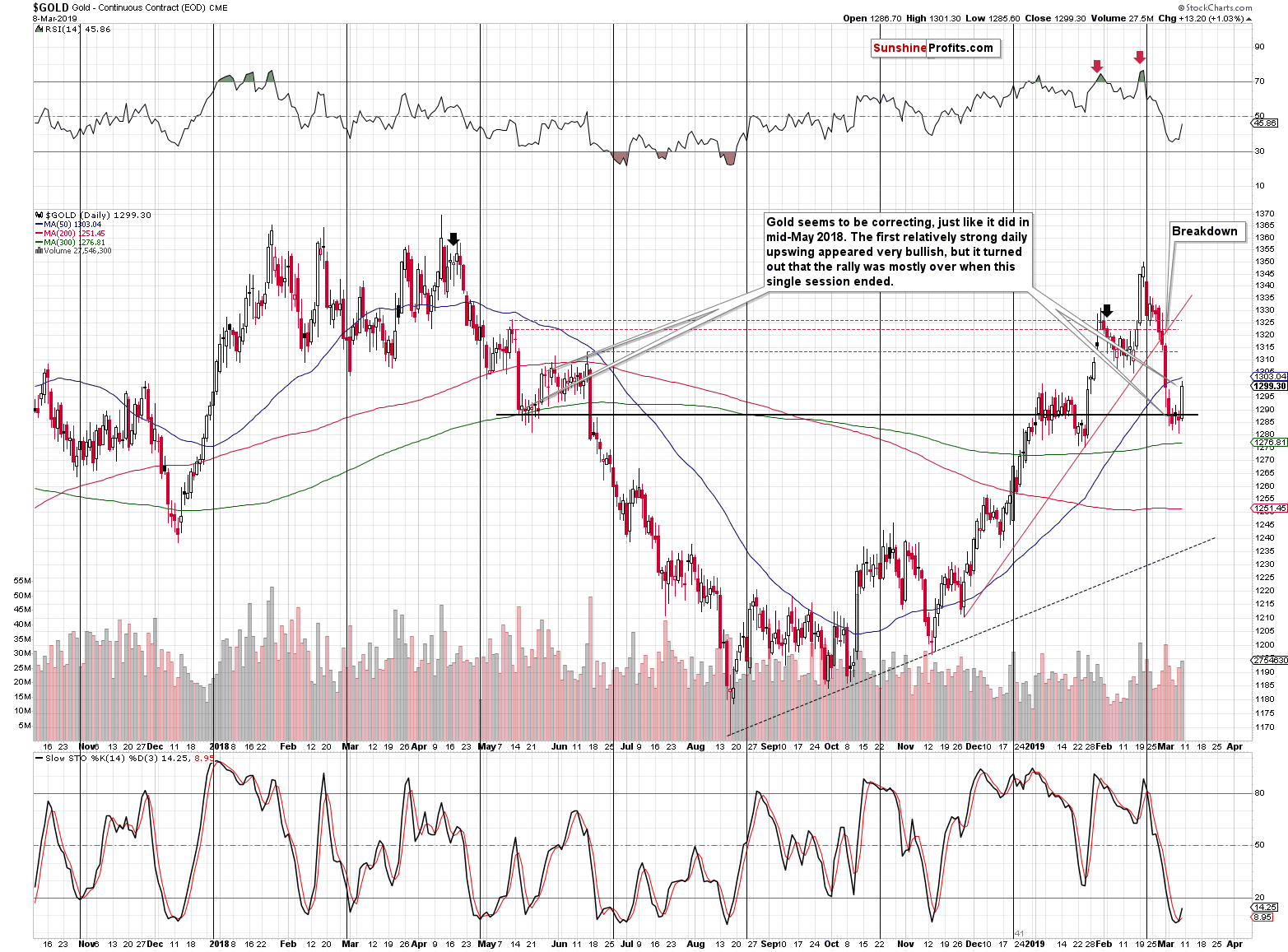 On Friday, we wrote that gold could move to about $1,310 or so, and it moved to about $1,300 – the previous highs. It also closed the day below the 50-day moving average, which – as you'll soon see – is an important clue. So far nothing unexpected took place on the gold market front.
With or without fanfare, let's move to the key details of the 2012-2013 – now link.
The 2012-2013 – Now Link in Gold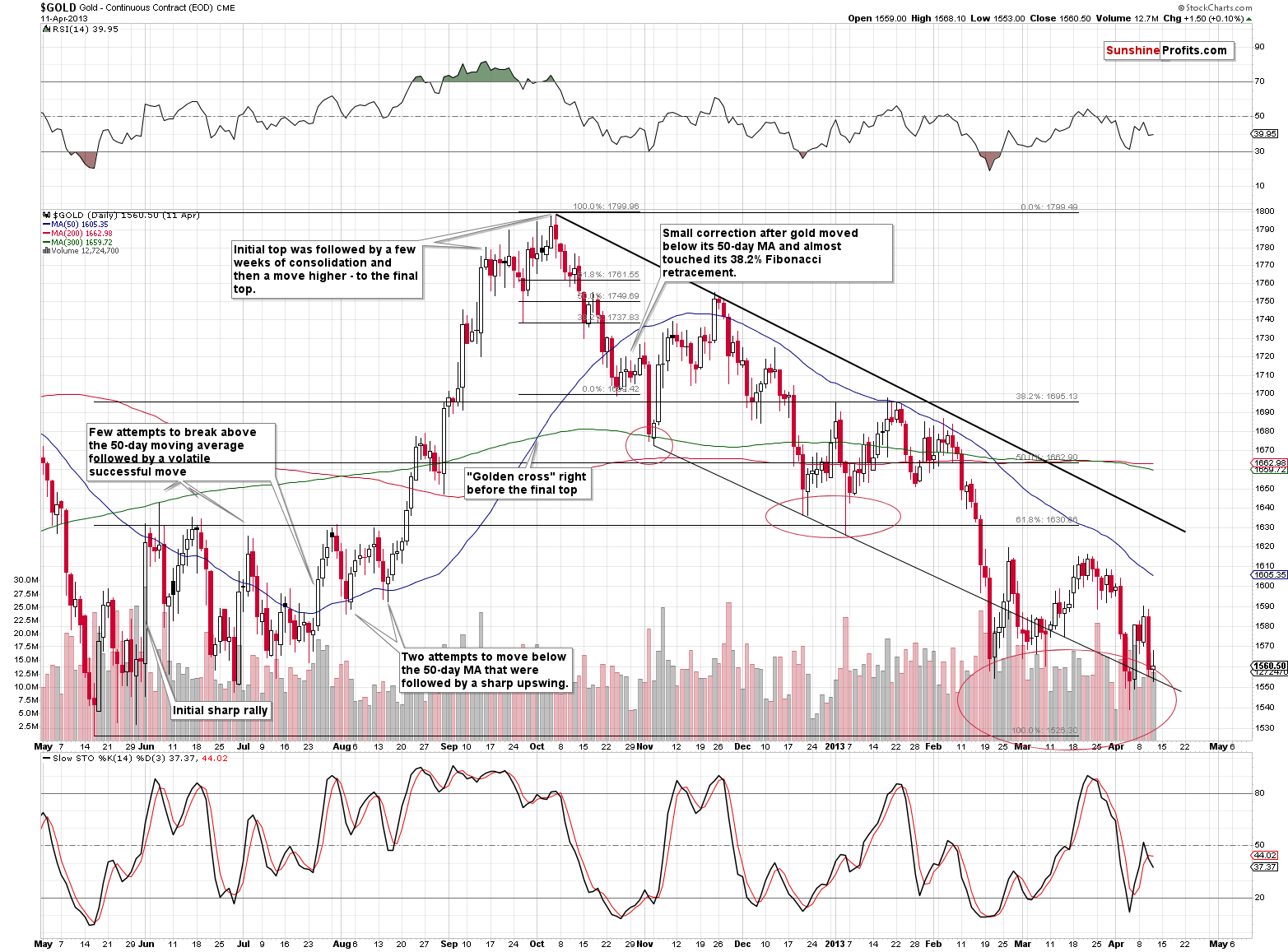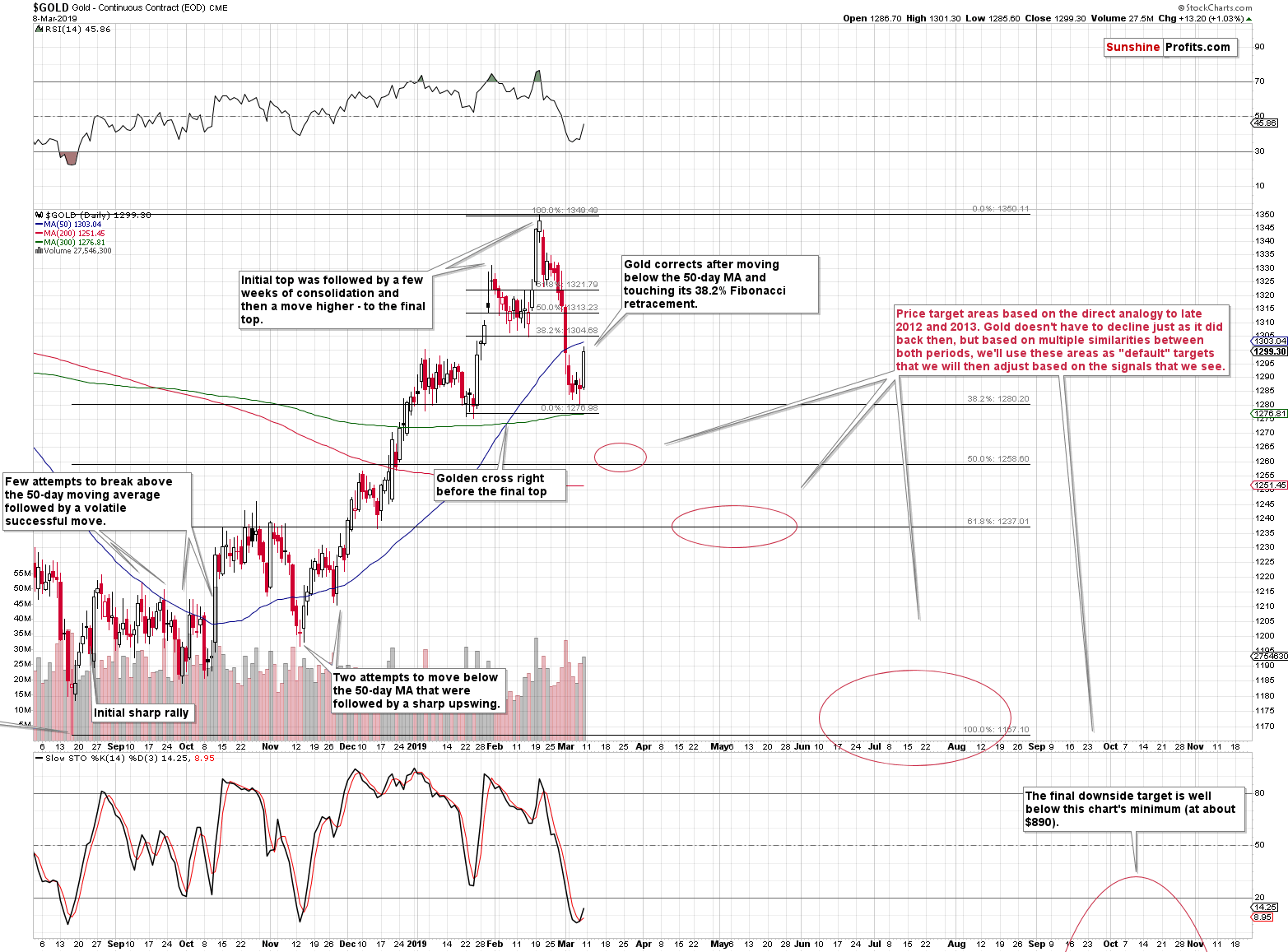 A technical pattern can be defined by a specific price action formations across many asset classes, or it can be based on similarity to previous price actions within the same instrument. This is called a self-similar pattern. Here, the similarity is indeed breathtaking between both periods. It's huge when looking at it from the medium-term point of view. What is striking, however, is that we see a lot of similarity between gold's final upswing before the big slide and the most recent upswing. And the same goes for the very initial part of the decline. This means that the decline could repeat itself to a degree more precise and bigger than one might expect.
Before moving to implications, let's take a look at how similar the recent rally was to the one that we saw in mid-2012.
Both rallies started in a sharp manner – gold soared and then tried to break above the 50-day moving average for a few times. In both 2012 and 2018, it managed to do so – in a sharp manner – only several failed attempts. Once the 50-day MA was broken, gold moved briefly below it twice, forming higher highs. The last highs were formed in mid-August 2012 and in late-November 2018. Then gold rallied in a rather sharp manner.
The full version of the above analysis also includes the analysis of silver, gold miners and the omnipotent USD Index. These provide vital clues as to the next short-term moves and additional ...
more