Gold Investors: All Eyes On The Striking Implications Of The 2012-2013 To Now Link
Gold has apparently turned the corner and we were not surprised by the upside move. However, there is more to this than meets the eye. Today, we'll interpret this upswing, the expectations it carries and set it all in the larger context. Yes, it's time to discuss the striking similarity and implications of the 2012-2013 – now link in gold. Its meaning and the likely path forward for the yellow metal. Would it justify going long gold? If so, then when and based on what? We want you to be as prepared as we are - it's high time.
Last Monday we outlined the breathtaking similarity between what's happening now and what happened in 2012 and 2013. The similarity is based not only on what happened in gold and multiple details that we can notice on gold's chart. There's much more to this analogy than just the gold market. Silver's price moves and details regarding it (even the recent triple-top formation), as well as the way in which the mining stocks moved lower (and – at times – higher), provide multiple confirmations of the existence of the 2012-2013 – now link. The long-term analogy is likely to have long- and medium-term implications. However, there is still a good chance that gold is going to repeat its previous moves also over the short term. While the history doesn't have to repeat itself to the letter (it barely ever does), it could rhyme to the extent that makes forecasting gold's price swings in the short-term much easier. These are the details that we will focus on in today's analysis.
But first, let's look at what happened from the weekly point of view – after all, a weekly reversal appears to be a huge deal. But is it really?
The Apparent Bullishness of Gold's Reversal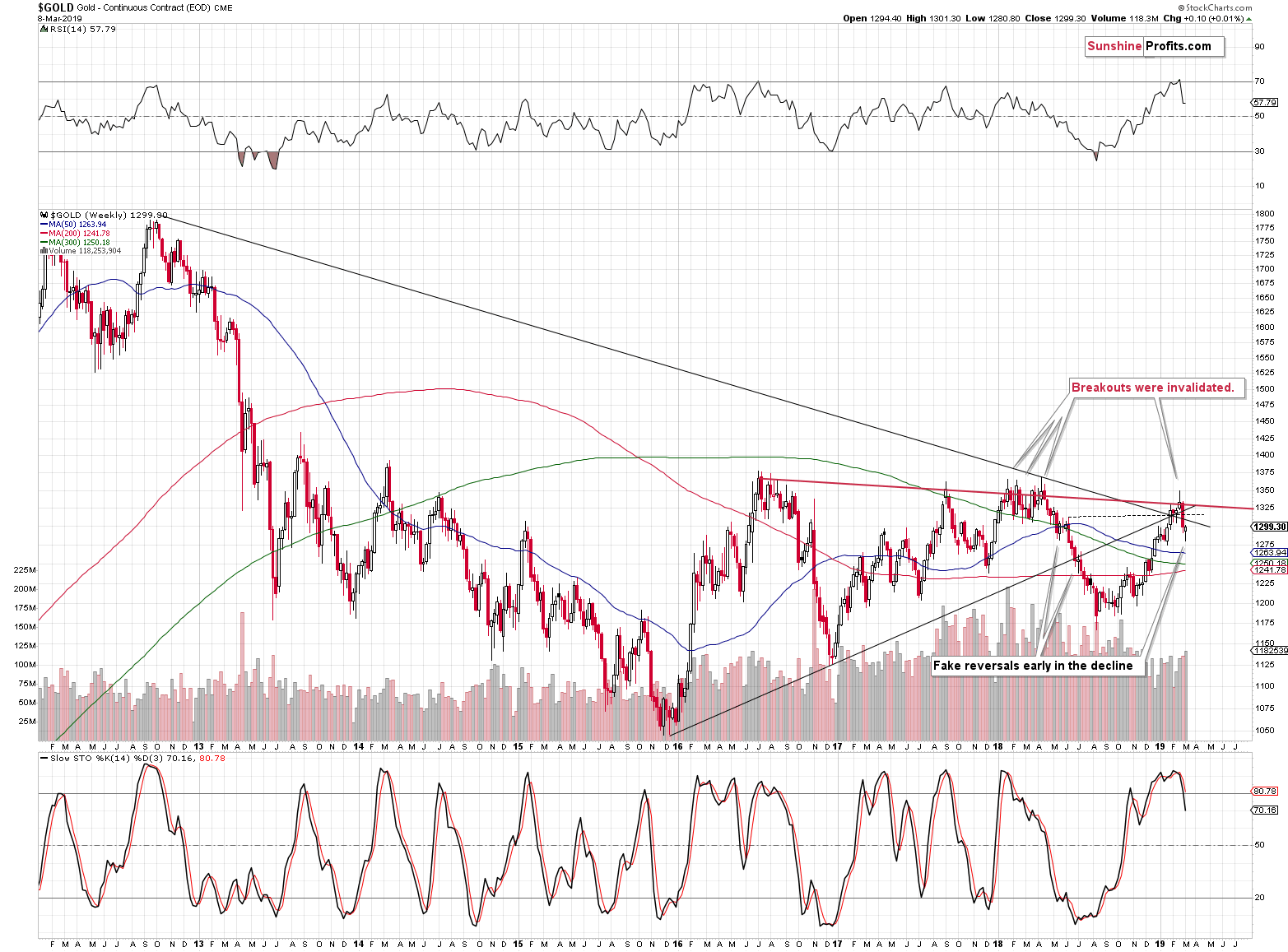 It's bullish on a stand-alone basis, but comparing last week's reversal to the most similar moves from the recent past – the mid-2018 reversals – suggests otherwise. The early-May 2018 reversal and the early-July 2018 reversal were both just pauses within the broader decline. The weekly reversals were followed by only slightly higher prices and then by much bigger declines. It seems to have been a better choice to simply have waited out the tiny (from the medium-term point of view) corrections than chase the market higher. That proved to be a very tricky business.
The full version of the above analysis also includes the analysis of silver, gold miners and the omnipotent USD Index. These provide vital clues as to the next short-term moves and additional ...
more