Gold: Don't Get Left Behind The Short Squeeze
Gold
Wednesday 7 am PST. Gold is at $1851.70, up $12.30. The market is trading above the Variable Changing Price Momentum (VC PMI) daily, weekly, and monthly average prices. Although it does not identify a day-trading signal, it does identify the trend-momentum of the market. With the market above the average daily, weekly, and monthly prices we are in an uptrend. The targets we are looking at for the day is $1870, as the Sell 1 level. The weekly target is $1874. The daily Sell 2 level is $1898. The weekly Sell 2 level is $1906. So the first target is $1870 to $1874. The prices almost match harmonically, which is a powerful sign.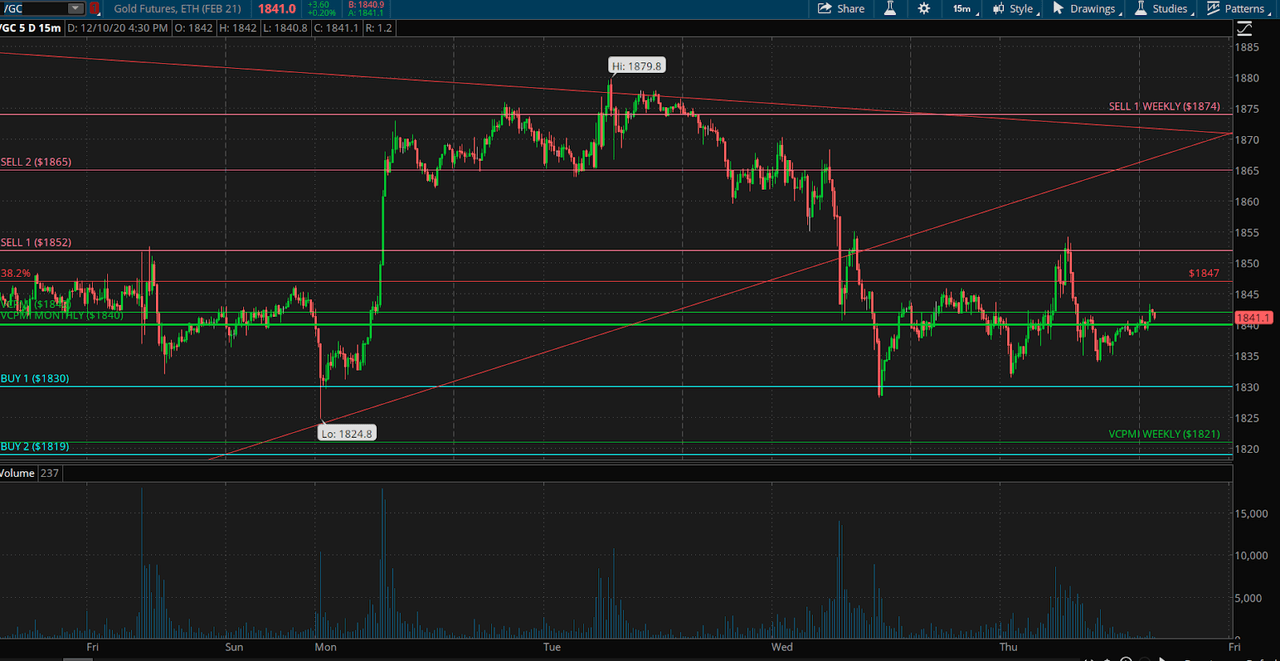 Courtesy: TDAmeritrade
NUGT is sharply higher, as are the other derivatives. We have confirmation that the low that we saw yesterday into this area of $1824 could be the second higher low, confirming that the bottom was made at $1767 on November 30. It did not reach $1822, which was the daily level. When the market yesterday came down toward the Buy 2 level yesterday, we reached the weekly levels of support. This is the area where buyers are likely to come into the market.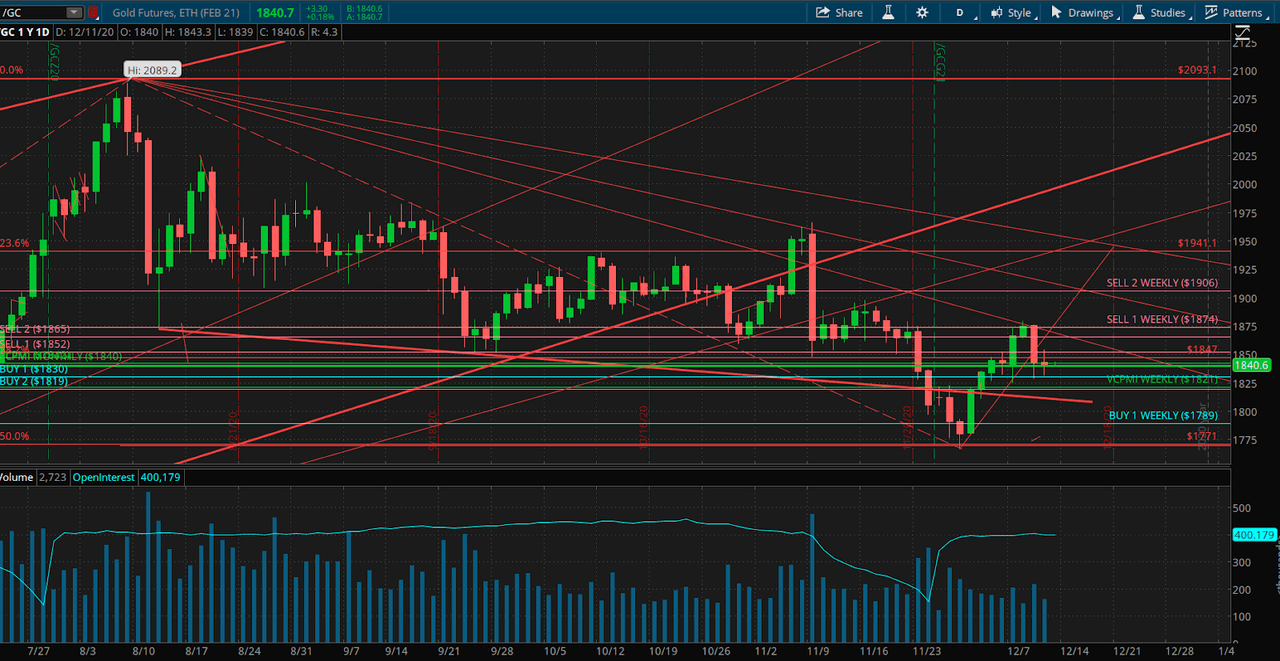 After the $2089 high of gold in the summer, gold has moved down about 50% from that high. Now we have established a low, which appears to be a completion of that retracement. It looks like gold may be setting up to once again challenge those highs. The $1768 level, which is the recent low, is potentially going to be the annual low.
Our goal is to increase our holdings in gold in, long term. We like what we are seeing in gold. We continue to buy corrections.
Fundamentals
A high was reached on November 9, when the efficacy of the vaccines was announced. The market, however, is not trading based on vaccine news. Gold is looking at the damage that was done by the pandemic. It devastated the world's economy. Unemployment is still at around 10 million unemployed. We have yet to see the effect of the second lockdown and the economic impact it's going to have on some of the small businesses that survived the first wave. They may not survive this second lockdown. That means there will be more economic damage and more pressure on the Federal Reserve to print more money and pump more stimulus into the economy.
Disclosure: I am/we are long GDX. I wrote this article myself, and it expresses my own opinions. I am not receiving compensation for it (other than from SA). I have no business relationship ...
more