Gold Declines Despite Powell's Easy Stance
The second reason why the interest rates will stay lower for longer is that the economy is a long way from the Fed's employment and inflation goals, and "it is likely to take some time for substantial further progress to be achieved". On Wednesday, Powell acknowledged that it may take more than three years to reach these goals. This means that the Fed will treat any possible increases in inflation this year as temporary and will leave interest rates unchanged.
Implications for Gold
What does Powell's testimony imply for the gold market? Well, gold bulls may be disappointed as the Fed Chair didn't sound too dovish. He neither announced an expansion in the quantitative easing, nor the yield curve control, nor negative interest rates nor a "whatever it takes" approach. And it seems that the yellow metal needs such things right now in order to survive – just like fish need water.
However, the rising bond yields could become a problem at one point for the Fed. If they continue to rise, Uncle Sam will not be happy, and the Fed will have to step into the market to buy government bonds. The central bank and Treasury are good old friends and the close relationship between Powell and Yellen may only strengthen this beautiful friendship – and support gold prices.
Moreover, the increasing bond yields (despite an ultra-dovish Fed) imply that reflation trade is strong. So far, investors just expect a return of inflation to a moderate level, but given the enormous surge in the broad money supply (see the chart below) and Biden's mammoth fiscal plan, the risk of overheating is non-negligible.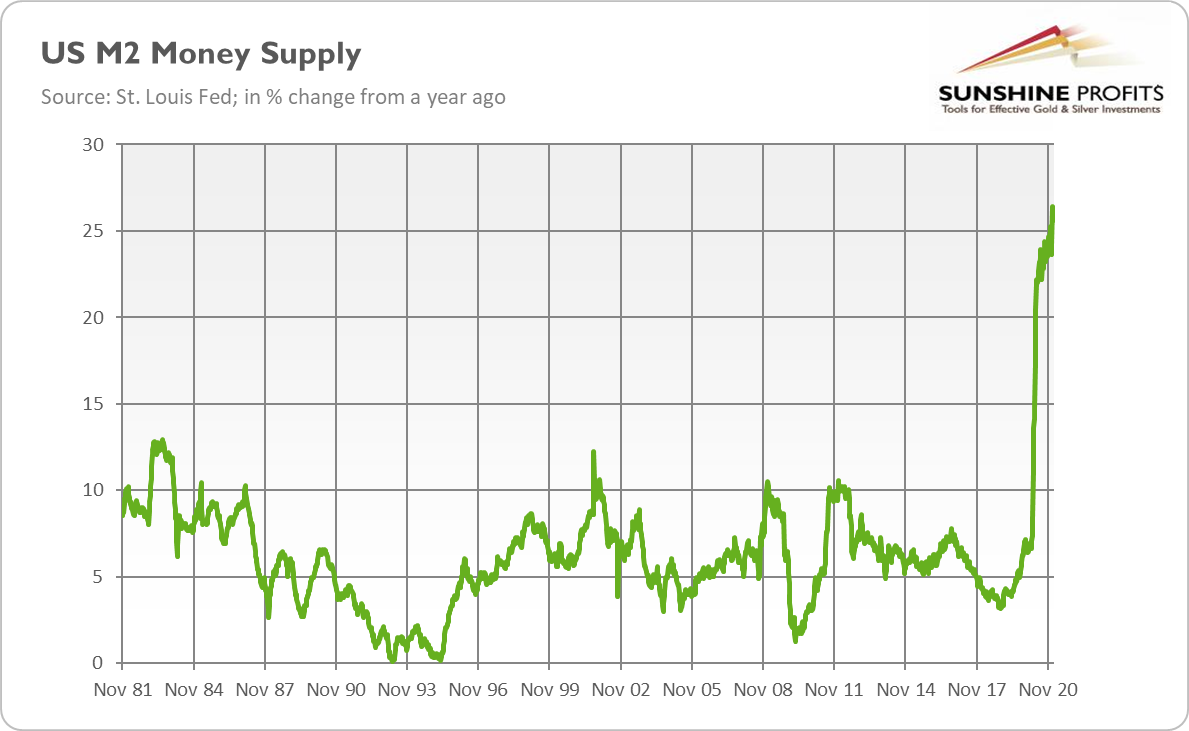 It would be really strange if such an aggressive monetary expansion wouldn't affect the prices. As one can see, the growth in the M2 money supply is 2.5 times faster than during the Great Recession. Actually, we are already seeing inflation – but in the asset markets, not the CPI. The stock and house prices are surging. The commodity sector has also already been gaining and gold may follow suit.
Disclaimer: Please note that the aim of the above analysis is to discuss the likely long-term impact of the featured phenomenon on the price of gold and this analysis does not indicate (nor does it ...
more