Gold, Crude Oil Price Outlook: Market Digests Strong NFP And Higher Yields
Gold prices fell modestly during Monday's APAC morning session, pausing a three-day gain as the 10-year Treasury yield climbed more than 3%. A much stronger-than-expected US nonfarm payroll print boosted reflation optimism and led longer-dated rates higher, undermining the non-yielding precious metals. Meanwhile, the DXY US Dollar index was a little moved amid a quiet trading session as several key APAC markets are closed for public holidays. Higher price volatility may be expected when traders return on Tuesday and digest the latest jobs data.
The March nonfarm payroll figures came in at 916k, compared to a baseline forecast of 647k. This marks the strongest gain in seven months. February's reading was revised up to 468k from 379k, showing continuous improvement in the job market as vaccine rollouts eased lockdown restrictions. A robust reading was mainly attributed to a surge in leisure and hospitality (+280k), bars and restaurants (+176k) as well as construction jobs (+110k). The rapid healing of the labor market from the second pandemic wave may reinforce reflation hopes and dampen prospects for gold prices.
Brighter jobs data, alongside President Joe Biden's fresh $2.25 trillion infrastructure stimulus proposal, may continue to encourage investors to shift their capital into risk assets such as equities for yield and growth. Non-yielding assets such as precious metals appear lackluster against this backdrop, and exchange-traded gold ETFs have suffered continuous outflows over the past few months.
Gold Prices vs. 10-year Treasury Inflation-indexed Security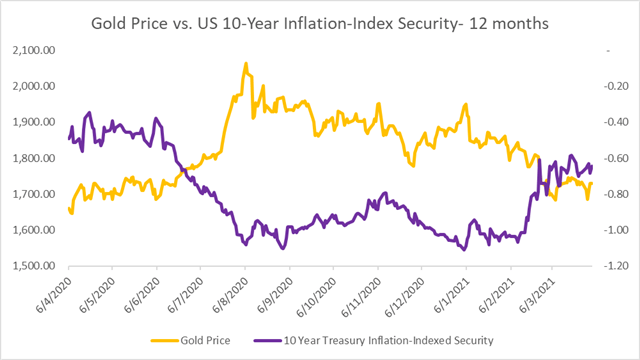 Source: Bloomberg, DailyFX
Crude oil prices retreated slightly on Monday amid a quiet trading session. Volume was much thinner than usual as HK, Australia, mainland China and most parts of Europe are closed for the Qingming Festival and Easter holiday. Last Thursday, oil prices advanced more than 3% as OPEC+ surprised the market with a total 2.25-million-barrel production hike from May to July (table below). Prior to this, market participants had widely expected a rollover of the current production cuts through May.
Disclosure: See the full disclosure for DailyFX here.