Gold, Crude Oil Outlook: Will FOMC Meeting Catalyze Price Volatility?
Today's FOMC meeting is probably the most important macro event for traders around the world. Market participants are eyeing an update from Jerome Powell about the central bank's view of the economic outlook, fiscal stimulus as well as clues about future tapering. In view of deteriorating labor market conditions and viral waves in winter, the Fed's monetary policy is likely to remain accommodative, which could help to cushion the downside for gold prices.
The Fed has made it clear in the December FOMC press release that the Committee expects to maintain an accommodative stance of monetary policy until maximum employment and long-term inflation of 2 percent are achieved. That said, the central bank is likely to hold its policy rate unchanged until 2023, as well as continue to increase its holdings of Treasury securities by at least $80 billion per month and of mortgage-backed securities by at least $40 billion per month for the foreseeable future.
The US unemployment rate stood at 6.77% in December, which marks a long way to return to the pre-Covid level of 3.8%. The latest core PCE inflation reading was at 1.4%, showing little sign of inflation overheating. The relationship of the Fed target rate, US unemployment and core PCE inflation are displayed in the graph below. It suggests that conditions for the Fed to consider tapering are far from met.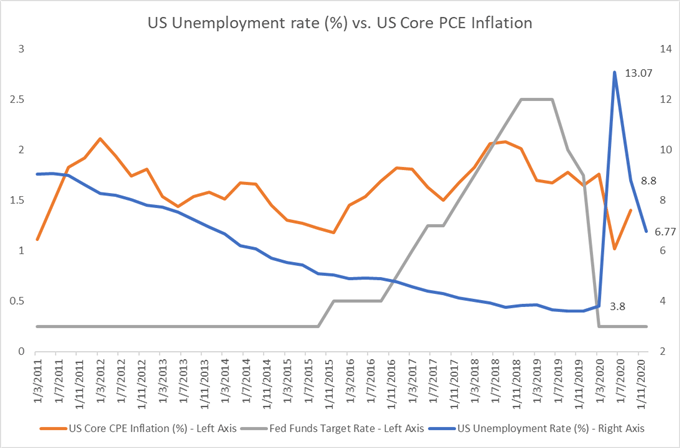 Source: Bloomberg, DailyFX
Gold prices have been weighed by rising US Treasury yields and a potential delay of Biden's US$ 1.9 trillion fiscal stimulus plan recently. Senate Majority Leader Chuck Schumer said earlier this week thathe is aiming to pass the new fiscal stimulus plan by mid-March, which disappointed investors who had anticipated a shorter timeline. Uncertainties surrounding the timing and size of the new Covid relief plan have led investors to unwind reflation trades and precious metal holdings.
Disclosure: See the full disclosure for DailyFX here.