Gold Back Below $1,800
Easy come, easy go. The yellow metal rallied on Friday just to plunge on Tuesday. What's your next move, Mr. Gold?
Ugh, the recent rally in gold prices was really short-lived. As the chart below shows, the price of gold increased after the publication of disappointing nonfarm payrolls on Friday. However, it declined as soon as on Tuesday, and on Wednesday it slid below $1,800.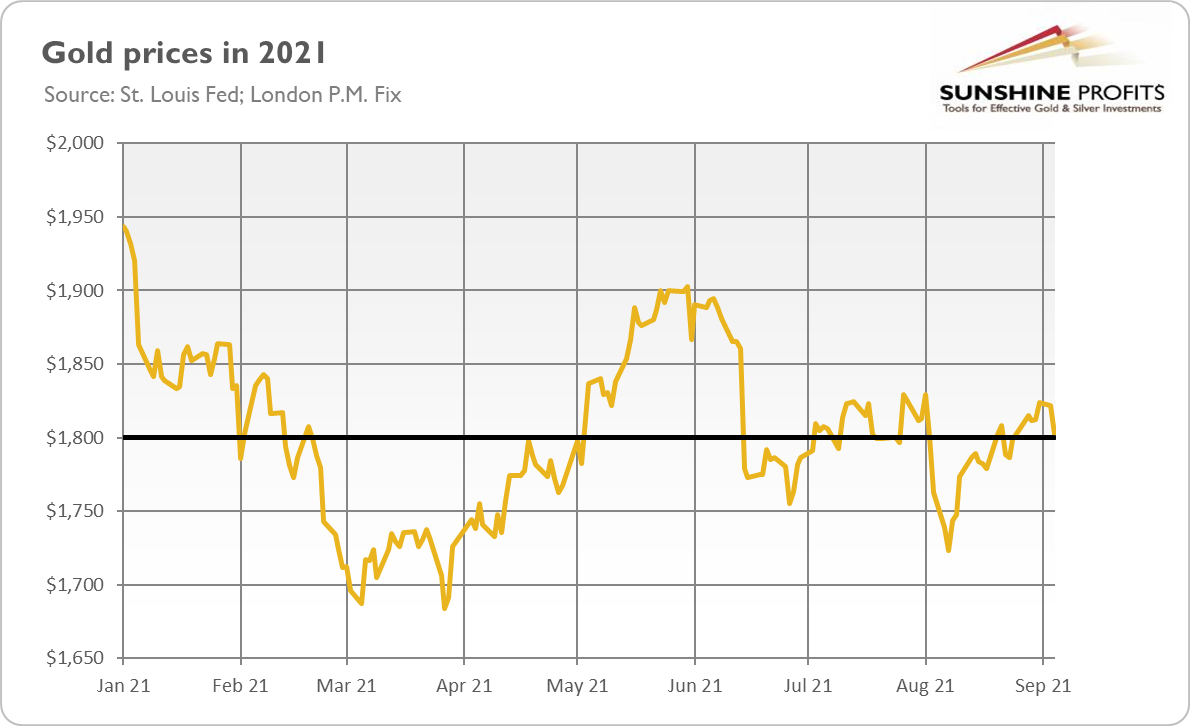 I have to admit that I expected a more bullish performance. To be clear: I was far from opening champagne. For instance, I pointed out that the tapering of quantitative easing remained on the horizon, and I expressed some worries that gold's rally was rather moderate despite the big disappointment of job gains:
Another caveat is that gold failed to rally above $1,835 despite softened expectations of the future path of the federal funds rate
However, I thought that the likely postponement of the Fed's tightening cycle in the face of weak employment data would allow gold to catch its breath for a while. Well, it did, but only for a few days.
The quick reversal is clearly bearish for gold. Sure, without disappointing job numbers, the yellow metal could perform even worse. However, the inability to maintain gains indicates gold's inherent weakness in the current environment.
Of course, the recent decline in gold prices was at least partially caused by new developments in the financial markets, namely: the strengthening in the US dollar and the rise in the bond yields. So, one could say that earlier bullish news was simply outweighed by later bearish factors.
However, please note that the US dollar strengthened and the interest rates rose amid an increase in risk aversion. The fact that gold, which is considered to be a safe-haven asset, drops when investors become more risk-averse, is really frustrating.
What's more, some analysts pointed out that the dollar strength and higher yields were not enough to account for the plunge in gold prices – so, it seems that the momentum is simply negative and gold wants trade lower, no matter the fundamentals.
Disclaimer: All essays, research and information found on the Website represent the analyses and opinions of Mr. Radomski and Sunshine Profits' associates only. As such, it may prove wrong ...
more