Gold: 1970s Bell Bottoms And Inflation Are Back
The 10-year bond yield is falling in most developed countries. Switzerland and Germany are in negative interest rates on the 10-year bond. The highest yield is in Australia, which is at about 1.75%. That's the highest interest rate being paid right now on a 10-year bond. Therefore, there's a lot of money going to Australia into their bonds. The disparity between Germany and Australia is about 2%. The US got up to almost 147.70 a few days ago, which caused the stock market sell-off and gold and silver came down to the levels where we are now with gold at about $1700 and silver at $26.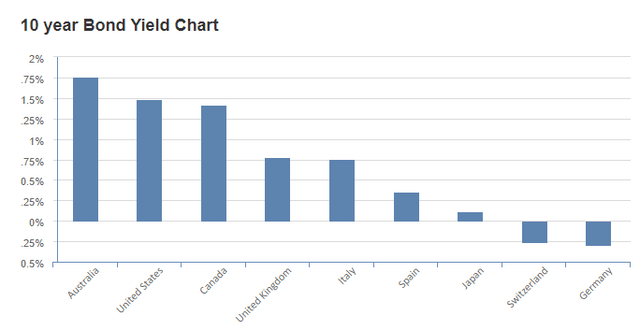 Courtesy: Investing.com
Given the tremendous amount of debt now, any rise in interest rates is going to affect the ability of countries and other debtors to pay. The Treasury, therefore, is under tremendous pressure. We may be moving toward higher interest rates. Given the huge amount of stimulus entering the markets, the market is saying that it's going to be inflationary, which is why interest rates are beginning to rise. Commodities, such as wheat, soybeans, crude oil and corn are all rising rapidly. Bitcoin also is up significantly.
The Commodity Index shows most commodities are increasing in price. We are beginning to see a commodity bull market as a result of this aggressive monetary policy. The market will need more stimulus than they are offering right now. We still have high unemployment rates. Many companies are out of business. The damage done is still coming to light.
The market is afraid that if interest rates rise, gold will collapse. It's a contradictory argument because interest rates are rising because of a fear of inflation caused by supply chain problems. However, if the economy gets going again, demand may outstrip supply and lead to price inflation with more money chasing fewer goods. As we print more money and inject it into the economy, prices will rise, including gold.
Already we are seeing shortages, such as of 1,000-ounce silver bars, which are used for industrial purposes, gold, and various essential chemicals used in medicine, not to mention the vaccines. We may see a stronger than expected economy igniting pressure to raise interest rates. That will put pressure on the Fed, since they know that if they raise interest rates, debt payments will rise considerably - unless they take control of the yield curve. The Fed may cap the 30-year bond rate, which is where most of the debt is located.
Disclosure: I am/we are long GDX. I wrote this article myself, and it expresses my own opinions.
To learn more about how the VC PMI works and receive weekly reports on the E-mini, gold, and ...
more