Fed's Crypto Plans May Turn Bitcoin Bulls Into Gold Bugs
What Powell has in mind is a centrally controlled digital currency whose value can be arbitrarily manipulated – and even set to accrue negative rates of interest.
Although rising bond yields has been a major theme so far in 2021, the Fed's short-term rate remains near zero.
Effectively, the central bank is only one additional rate cut away from imposing a negative (penalty) yield on cash holdings.
Paper cash at least has the virtue of being worth its face value. A digital dollar could lose both real value and nominal (face) value.
Keith Weiner, a founder of the Gold Standard Institute, predicted in his recent article "The Fedcoin Is Coming" that "Fedcoin would be programmed to erode at a rate to match the Fed's negative interest rates…They will have you totally trapped."
He continued, "Even cash will become entirely electronic, and subject to slow confiscation.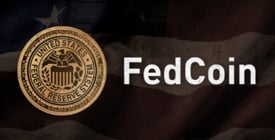 Not by inflation. But by negative interest rates that reduce the account balance."
For now, inflation – the steady erosion of the purchasing power of dollar holdings – is a much more immediate danger than negative rates. But a move to a digital dollar would enable both processes to extract real wealth from holders simultaneously.
While privately issued cryptocurrencies could be viable alternatives, they could also suffer severe losses if speculators begin to look elsewhere or if governments regulate them out of existence except as black-market vehicles that above-board businesses won't touch.
That leaves gold and silver as the true sound monetary alternatives amid central bankers' emerging new digital currency regime.