Fed Offers No Holiday From Inflation
Heading into Memorial Day weekend, American motorists will see the highest prices at the pump since 2014, according to AAA. Gas prices now average $3.04 a gallon nationally – reflecting a jump of more than $1.00 compared to the same time last year.
A rising gasoline price is just one of many emerging symptoms of a larger inflation problem:
A lack of housing inventory, low-interest rates, and surging costs for building materials are pushing home prices through the roof.
Billionaire Warren Buffett recently complained that he is seeing significant inflation pressures throughout the supply chains of businesses he owns.
Beef is becoming increasingly unaffordable for many grocery shoppers, and rising food costs are forcing already beleaguered restaurants to hike menu prices.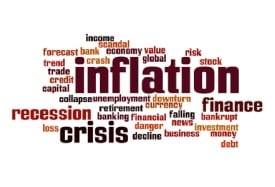 These examples are even being confirmed by the government's own notoriously understated Consumer Price Index (CPI) and Producer Price Index gauges.
The latest CPI data shows inflation running at a 4.2% clip while producer prices have shot up 6.2% from a year ago.
The inflation surge should alarm investors who are positioned in dollar-denominated paper assets. But they can't say they weren't warned.
It's not just gold bugs who have been warning of higher inflation. The Federal Reserve itself has been trumpeting its intent to raise and keep inflation rates above 2% for an extended period.
Now the Fed is trying to downplay the recent surge in consumer prices as "transitory" so that it can continue to pursue extraordinary stimulative monetary policy – while egging on Congress to rack up gargantuan deficits and dole out trillions of dollars.
Federal Reserve Bank of Chicago President Charles Evans said on Tuesday, "I have not seen anything yet to persuade me to change my full support of our accommodative stance for monetary policy."
Meanwhile, San Francisco Fed president Mary Daly told CNBC, "I am firmly in the transitory camp."
Disclaimer: Information contained herein has been obtained from sources believed to be reliable, but there is no guarantee as to completeness or accuracy. Because individual investment ...
more