Failed Breakouts In Crude Oil Lead To A Profitable Opportunity
Crude oil moved sharply higher yesterday, almost touching the previous August highs, but it didn't manage to break above them. The resistance that we outlined in the previous Oil Trading Alerts kept the rally in check, and we already see the result. Crude oil simply declines. What's next? How far can it decline?
In short, the previous outlook remains up-to-date, simply because the situation developed in tune with what we wrote.
Of course, a daily rally appears bullish at first sight, especially for the inexperienced traders, but this is a false signal. To be clear, a daily rally is not bearish on its own, but it's not enough to make the situation bullish either. Let's keep in mind that price tops have to - by definition - happen after a rally, not after a decline... So why is the something-rallied-so-it's-going-to-rally-again way of thinking so popular? It's easy to extrapolate the most recent trends in the future as that's what makes sense... Emotionally. And that's exactly what makes this business hard in the long run. To make money, one usually needs to act against what seems so obvious at first sight.
The truth is that a daily rally is just a piece of information that investors and traders can use. And the way one uses it will determine if they will make money or not. How should one use it? As always, the context is the king. And what does the king tell us today?
Let's take a closer look at the charts below for details.
(Click on image to enlarge)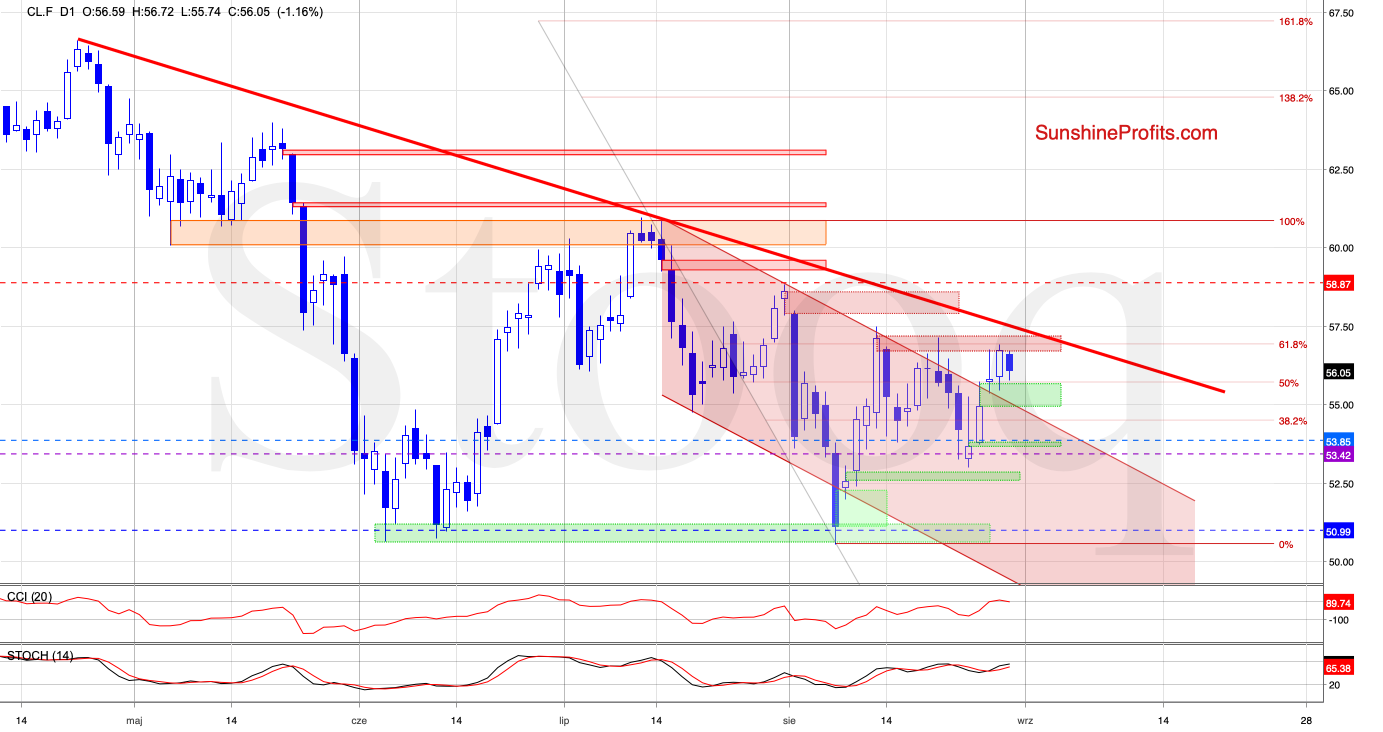 As far as the daily chart is concerned, in yesterday's Alert, we wrote the following:
Yesterday, crude oil tested the red resistance zone created by the previous peaks and further reinforced by the 61.8% Fibonacci retracement. While the bulls' unsuccessful break above it triggered a pullback, the commodity still closed the day above Wednesday's green gap.
Earlier today, we saw another test of the green gap - the unsuccessful attempt to move lower translated into a rebound. This suggests that we could see a retest of the red resistance zone later in the day.