Factoring Equities Into Gold's Equation
Something is astir in the equities markets. With retail activity at unprecedented levels, record call option volume, and speculative stock buying at a breakneck pace, once the house of cards tumbles down, what happens to gold or the miners?
Before examining equities though, let's take a brief look at a potential rebound in the precious metals, which might seem like a danger at first, but actually isn't.
We might see a relatively small corrective upswing in the precious metals sector, but it doesn't seem certain enough for us to adjust the current (profitable) trading position.
After showing exceptional weakness relative to both gold and the stock market, miners have finally found some very short-term support that could trigger a small rebound. The emphasis is placed on "small", and on "could". If the above sentence included the word "temporary" it would get the emphasis as well.
Here's what happened: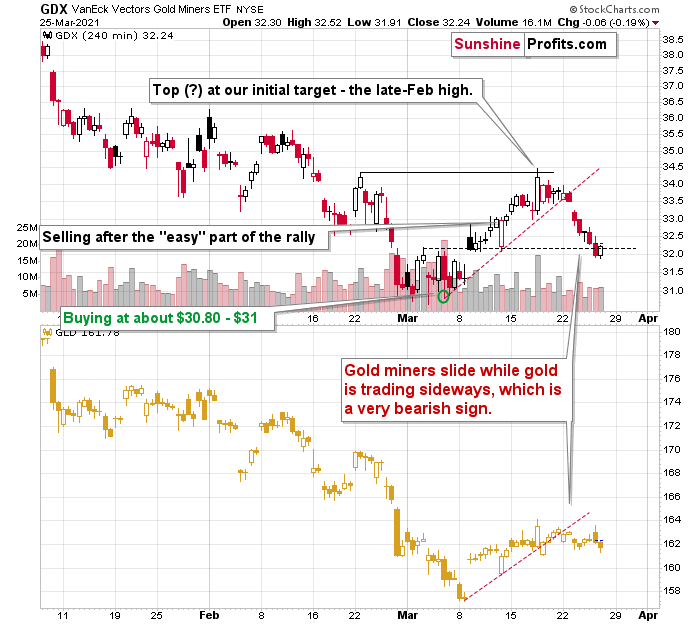 After breaking below the rising red support line and declining quite visibly despite gold's back-and-forth trading, miners finally reached a support level that could trigger something other than more declines.
I marked this support level with black, dashed line. It's based on the early-March high, the price gap that we saw shortly thereafter, and on the March 12 intraday low. A triple support level might seem like a very big deal, but let's keep in mind that all these support levels are of very short-term nature. Consequently, if they are going to trigger a rebound, it's likely to be of very short-term nature as well.
Having said that, let's take a look at the market from a more fundamental angle.
Piecing Together the Bearish Puzzle
With the PMs eliciting weakness in the face of a rising USD Index, I wrote previously that if a crisis of confidence erupts across U.S. equities, the PMs could move substantially lower. When combining an equity shock with a USD Index resurgence, the yellow metal could bottom at roughly $1,400 (or even ~$1,350).
And despite a late-afternoon rally helping to save face on Mar. 25, U.S. equities have displayed heightened volatility over the last week. With stimulus checks already in the price and the whipsawed trade eating away at options' Theta (time value until expiration), retail traders could soon run out of funds.
Disclaimer: All essays, research, and information found on the Website represent the analyses and opinions of Mr. Radomski and Sunshine Profits' associates only. As such, it may prove wrong ...
more