EUR/USD: It Takes Time To Chop Down A Tree
There are many important indicators strongly suggesting that the EUR/USD should be lower, but despite that, the currency pair is stubborn. What's happening?
Germany, France, and now Spain have all lowered their growth estimates. Europe is lagging behind the U.S. in economic performance, printing money like crazy, and Covid-related restrictions are tightening. Still, the EUR/USD won't budge, and gold is enjoying this delayed action. But the EUR/USD will have to face the music eventually, and when that happens (and it will), gold will no longer be singing in tune (for the medium-term).
Before looking at the EUR/USD, let's first examine how gold, miners, and the USD Index are faring.
In yesterday's (Apr. 9) analysis, I put the following in bold:
Please keep in mind that since gold might reverse today, it could rally a bit first – this would not be bullish, but relatively normal.
Here's what happened in gold yesterday: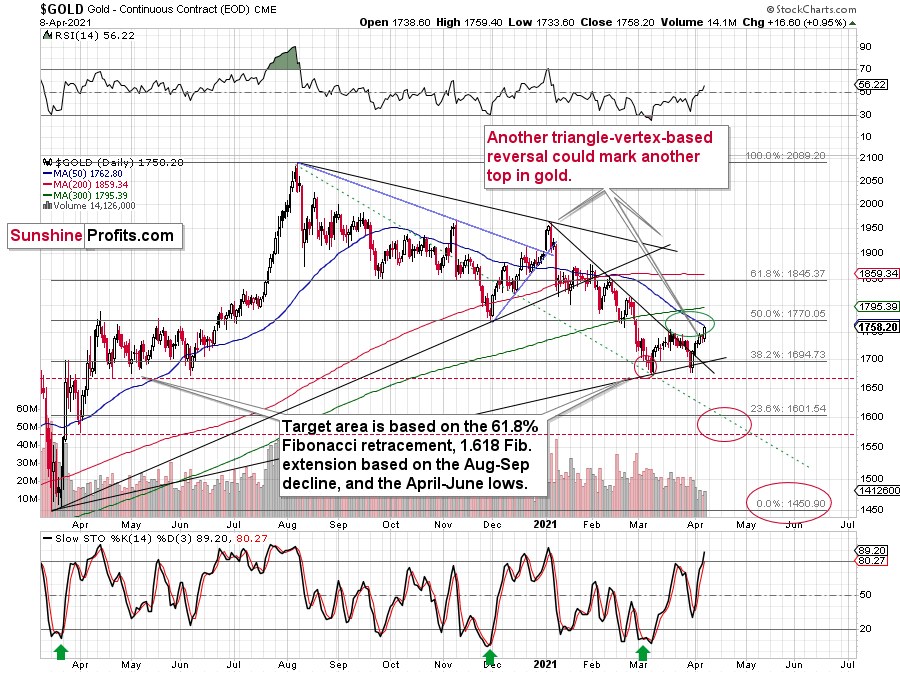 And here's what's happening in today's pre-market trading: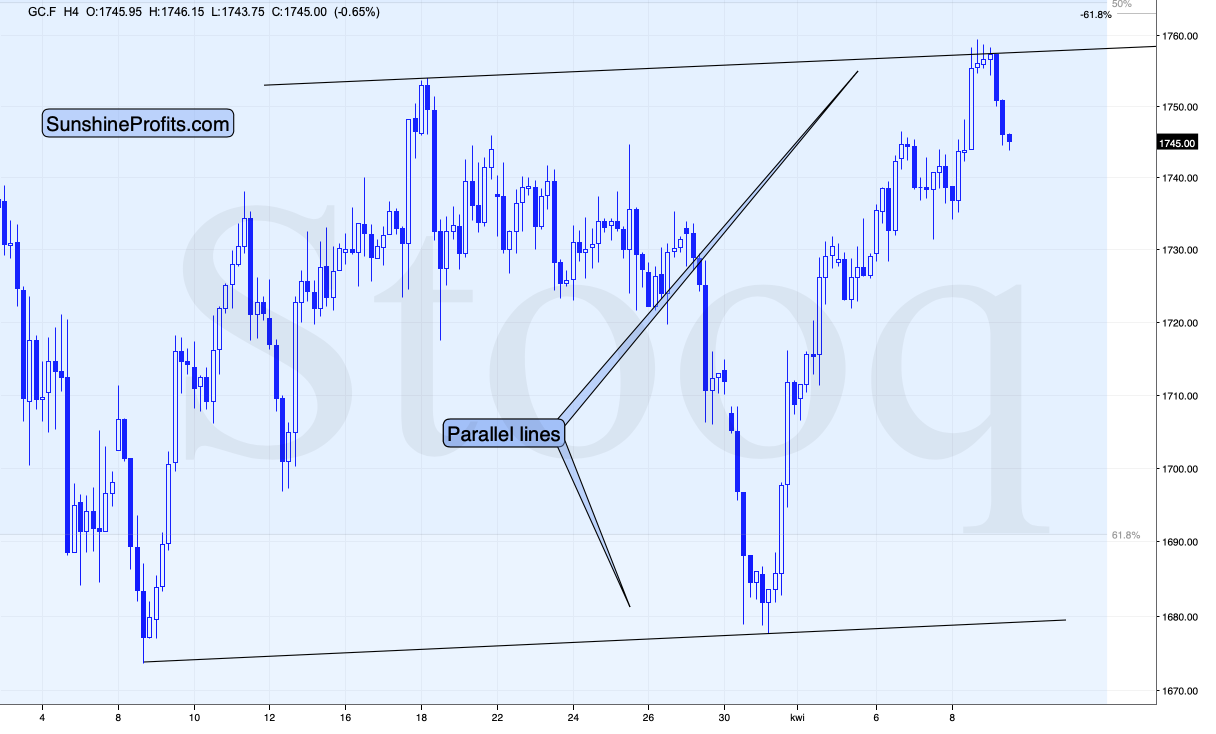 Simply put, gold rallied yesterday, and it seems to have topped right at its triangle-vertex-based reversal.
Moreover, gold has not only topped at the reversal point, but it also seems to have topped at the line that's parallel to the line connecting two previous short-term bottoms. This means that the recent monthly rally was a near-perfect zigzag (a.k.a. ABC) correction – the most classic way in which a flag formation can form.
The moves that follow such continuous patterns tend to be similar to the moves that preceded them. In this case, the move that preceded the zigzag pattern was the January – March decline, during which gold fell by more than $150. Repeating this kind of move would mean a decline in gold to about $1,600. This would be in perfect tune with what I wrote previously about gold's likely interim downside target.
The Miners
What about other gold stocks – did they confirm the top as well?
Yes, although the confirmation wasn't particularly clear.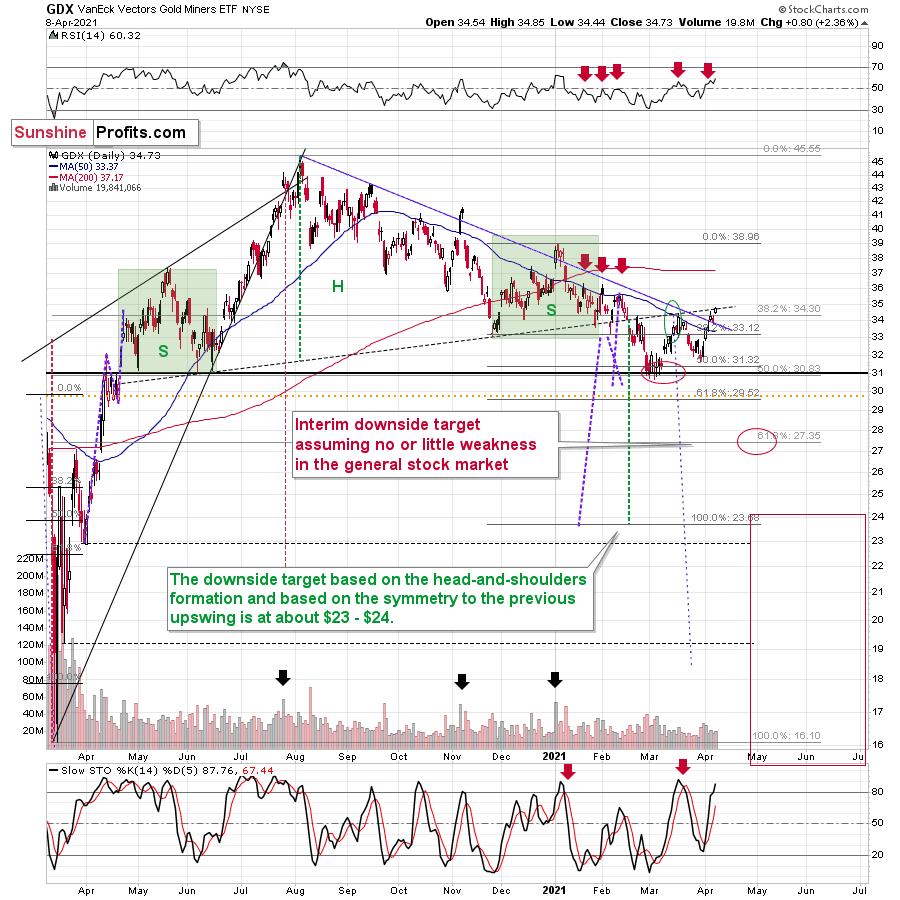 The GDX ETF didn't soar yesterday, but rather moved higher at a moderate pace. It moved visibly above the declining blue resistance line, but it stopped at the neck level of the previously completed broad head-and-shoulders pattern. This is a strong resistance that already worked once (in mid-March), so it's quite likely that reaching it marked the end of the short-term correction.
USD Index
And the USD Index?
It declined a bit more than seemed likely based on the 1:1 analogy to how much it declined back in 2018, but the deviation from this analogy is not big enough to say that the link is broken – far from it.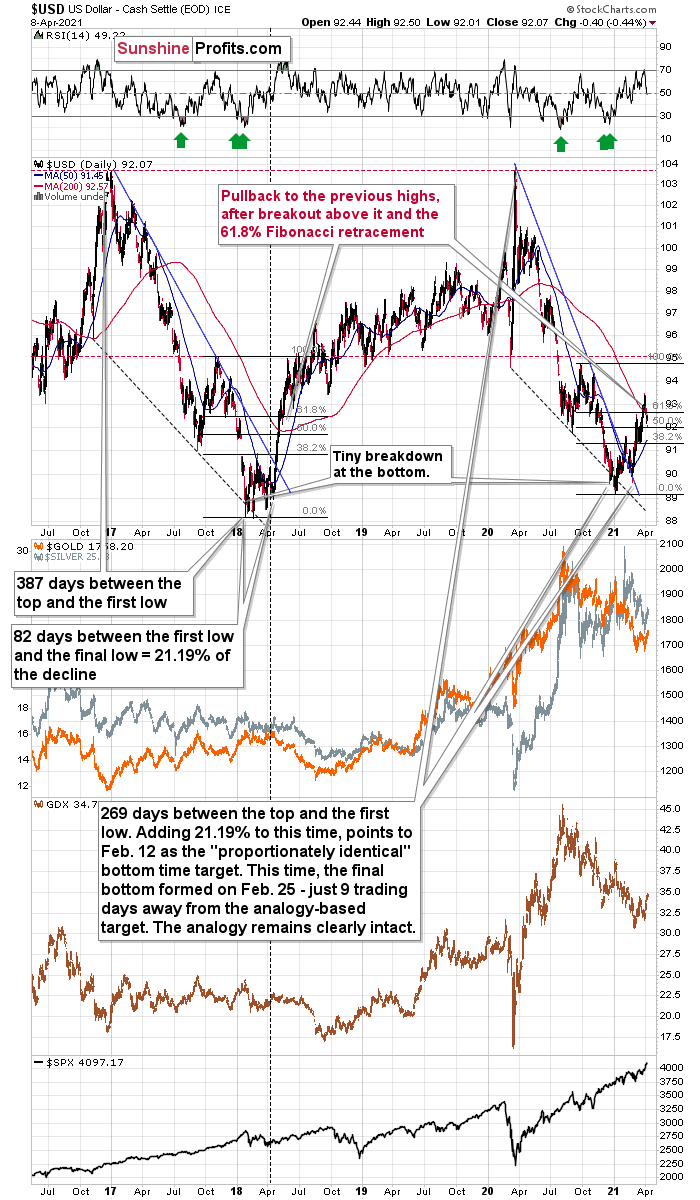 I previously wrote the following with regard to the short-term bottoming target for the U.S. currency:
What we saw yesterday definitely qualifies as a small correction. In fact, even if it was doubled it would still be small. And – more importantly – it would be in perfect tune with what happened in 2018 during the big rally.
Disclaimer: All essays, research, and information found above represent analyses and opinions of Matthew Levy, CFA and Sunshine Profits' associates only. As such, it may prove wrong and be ...
more