Eleven Reasons Why I Am Super Bullish On Gold And Silver
While this article is focused primarily focused on gold, we recall that historically, during a gold bull market, silver usually moves up even faster than gold.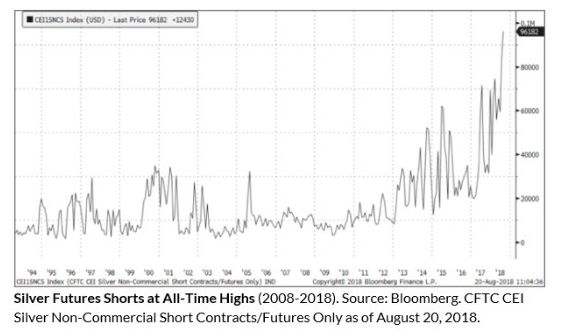 This chart courtesy Sprott.com and sources listed shows hedge funds have shorted silver at an all-time high number. When too many passengers in a boat are seated on one side, there is a danger of the boat tipping over. Watch what happens to the price of silver when these short positions are covered.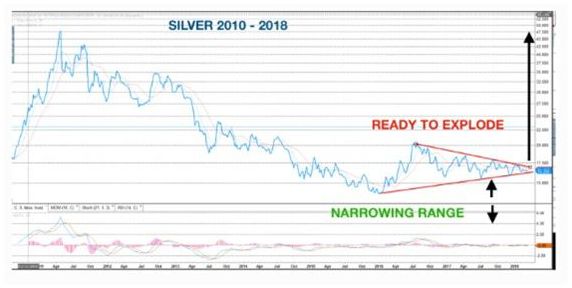 This chart courtesy Egon von Greyerz at Goldswitzerland.com shows a bullish pattern is developing in silver. Silver is the only commodity that has not yet reached the value that prevailed in February 1980. An upside breakout here will send silver advancing towards that 48.50 level, and possibly beyond.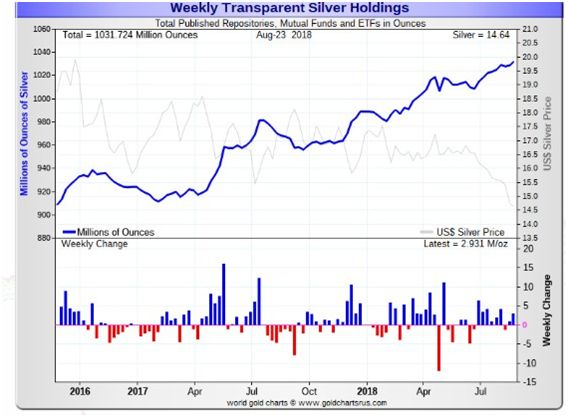 This chart courtesy goldchartsrus.com shows the number of ounces backing SLV and other silver ETFs and trusts has increased while the price of silver declined. This is a bullish divergence; leading to the conclusion that silver is due for a rise, to match the uptrend in this chart.
Featured is the Palladium chart. Palladium often leads the precious metals complex. The upside breakout at the blue arrow is setting a positive example for gold and silver and is confirmed by the supporting indicators. This breakout sets up an initial target at the green arrow.
Disclaimer: Investing involves risk taking. Please do your own due diligence. Peter Degraaf is NOT responsible for your trading decisions.
Peter Degraaf is a stocks and commodities investor with ...
more