Does "Run On Silver" Have More Fuel To Burn?
After GameStop (GME), silver was the next big target, but the investor frenzy seems to be showing signs of fatigue. Is the run on silver over?
I recently emphasized that silver's volatile upswing is likely just temporary, and I discussed the Kondratiev cycle which implies much higher gold prices but not necessarily right away because the value of cash (USD) would be likely to soar as well. The latter would likely to trigger a temporary slide in gold.
Well, was silver's rally temporary?
(Click on image to enlarge)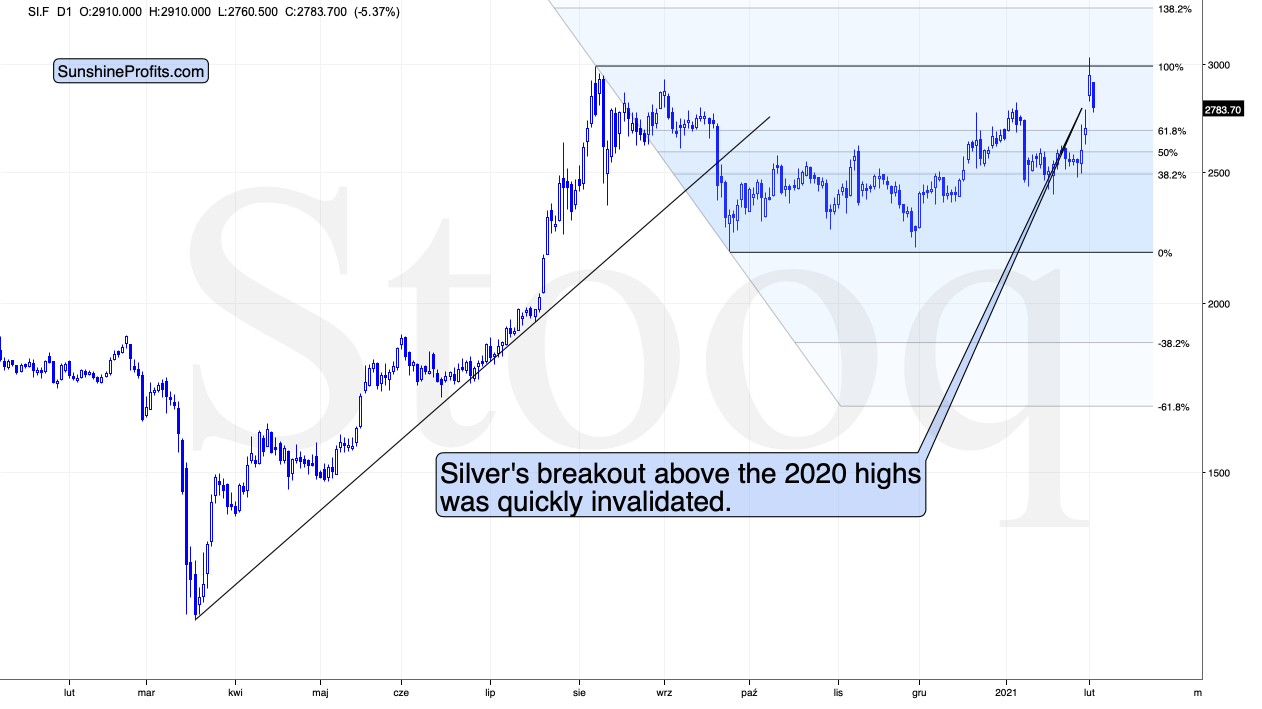 Figure 1 – COMEX Silver Futures
That seems to have been the case. Let's examine the short-term silver chart above.
On a short-term basis, silver is showing strength – also yesterday (Feb. 1), when it rallied slightly above the early-September high. Perhaps the final part of those who might have been inclined to buy based on the "silver manipulation" narrative and the forum encouragements in general, have decided to make their purchases over the weekend, and we saw the result in yesterday's trading.
This, coupled with the miners' relative weakness means that the bearish outlook remains intact. If it "feels" that the precious metals market is about to take off, but the analysis says otherwise, then it's very likely that the PMs are topping. That's what people see and "feel" at the top.
While silver moved close to its 2021 highs, the GDX ETF moved close to its 2021 lows – the relative underperformance of the latter is striking.
Silver invalidated the breakout above the 2020 highs. During today's trading, silver is already down quite visibly. It's now apparent that the silver world is not ending, and that silver's price doesn't have to keep on climbing. Is the silver shortage here? Not necessarily. Some bullion products might be in short supply and it wouldn't be the first time this is the case. The size of the silver market is not that small after all.
Disclaimer: All essays, research, and information found on the Website represent the analyses and opinions of Mr. Radomski and Sunshine Profits' associates only. As such, it may prove wrong ...
more