De-Dollarization And Re-Dollarization: Global Central Banks Gold Reserves
The Interest in Holding Gold
Central banks became net buyers of gold in 2010, just after the financial crisis, with gold remaining an attractive class of assets for central bank reserve managers. Amid the uncertainties associated with COVID-19, the yellow metal acts as a "safe heaven" that can be stored and sold in case of liquidity problems.
Image Source: Pixabay
With the increase in the prices of gold and in the context of the coronavirus crisis, gold has rarely appeared as attractive as it does today. Central bankers have reduced their policy interest rates and have aggressively expanded their asset purchasing programs at the heart of the pandemic. Of course, that has supported expansionist fiscal policies to ease the effects of population lockdown, but that has also contributed to the decrease in yields of sovereign bonds.
The reincrease of the U.S 10-year Treasury yield starting in August 2020 has followed, reinforced afterwards with the anticipated economic growth perspectives thanks to the arrival of vaccines against coronavirus, which have been presented as being very, very effective by their sources.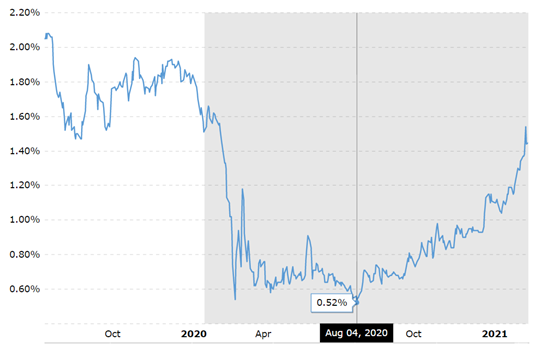 In August 2020, the central banks thus became net sellers of gold for the first time in about 18 months. Uzbekistan in particular has reduced their gold reserves by almost 32 tons that month, probably further to difficulties in financing to meet the health crisis. Countries having difficulties and gold-producing countries could in fact adopt this type of strategy. We should nevertheless underscore the fact that Uzbekistan has gold extraction activities and appears to be very favorable to the holding of precious metals by these citizens, because since November 2020 they have been issuing ingots sealed with a QR code.
Central banks have competing requirements on their investment strategies. Diversification appears to be the principal driving force of the interest of central banks in gold. Another important consideration for holding gold is the opportunity cost, which translates the benefits that an investor might have been able to receive from an alternative investment project. As a result of the crisis, the central banks have further relaxed their monetary policies and the budgetary policies of the governments have followed suit. In this context, the opportunity cost to hold gold rather decreased.
Disclosure: GoldBroker.com, all rights reserved