Crude Oil Removed All Gains From Saudi Attack
Crude oil has been through a whole lot of drama in the last two weeks only to get back to where prices previously stood. The Saudi Arabia bombings caused a huge price shock to the markets. Events like this will typically either have long-term price ramifications for oil or they become another overreaction in the markets that quickly bring prices back to equilibrium. No doubt what happened in this case, but the markets will still be looking for direction and other factors will come into play.
Supply is the Issue for Crude Oil Fundamentals
The big picture here is that there are plentiful supplies of crude oil right now and into the foreseeable future, while demand appears to be tapering off. China and Europe are seeing slower economic growth. In fact, I don't see many signs of this turning around anytime soon. I see more risk to slower global economic growth than a surprise to the upside. Slowing economic growth should obviously lead to slowing demand for crude oil.
The demand side of the equation should keep oil prices from running substantially higher, as we have seen in the past. Strong growth from China, India and developing countries kept oil prices around $100 for years. It could be years before crude oil gets into that type of supply/demand situation again.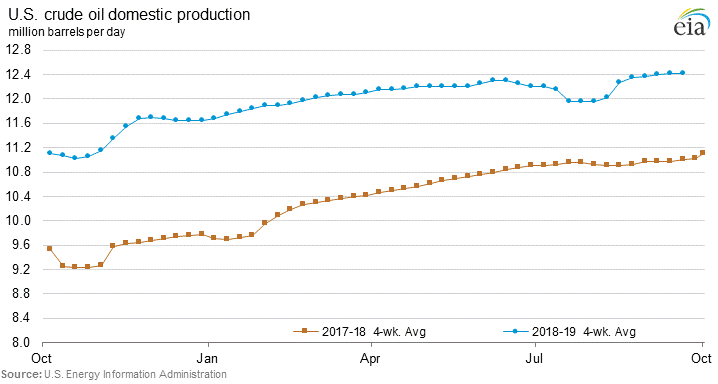 Oil production in the US is the key area of focus when evaluating the fundamentals. The US is producing oil at an accelerating pace and has the capacity to increase further. This is a trend that is negative for oil prices, although that trend has been present for a while and prices reflect it. The question is how much more can this drive prices lower or is it already factored in?
I see a negative on the demand side and a negative on the supply side for oil prices. Neither of those trends look to reverse in the near future in my opinion. Crude oil has been trading between $50 and $65 for most of the year. That is a sweet spot that keeps production humming in the US and keeps the consumer fairly happy. Higher prices will likely lead to more production and that will eventually weigh on prices.
Disclosure: Past performance is not indicative of future results. Futures trading is not suitable for all investors. The risk associated with futures trading is substantial. Only risk capital ...
more