Crude Oil Prices Bottoming May Help USDCAD Topping Potential
Global financial markets are proving volatile in the wake of the monumental June Fed meeting. With the FOMC outlining a path forward where it's possible for multiple interest rate cuts by the end of 2019, the combined drop in US Treasury yields and the US Dollar has created an environment that's extremely friendly to higher yield, high beta assets. But for crude oil prices, the environment has been bolstered by none other than US President Donald Trump himself.
CRUDE OIL PRICES RALLY AFTER IRAN SHOOTS DOWN US DRONE
Earlier today, Iran shot down a US drone either over international waters or Iranian sovereign territory. While both sides squabble over who is at fault, the fake of the matter is that this is another chapter in the rising geopolitical tensions between the US and Iran. The Strait of Hormuz, controlled by Iran, sees somewhere between 30-40% of the global oil supply pass through it every day. US President Donald Trump was quick to tweet that Iran "made a very bad mistake," threatening that "you will find out" when asked about retaliation.
Accordingly, the repeated threats by Iran to cut off access to this crucial global shipping lane may be helping undergird the rebound in price action as traders foresee a greater likelihood that supply concerns may abruptly materialize – particularly if the odds of US military action against Iran are increasing.
Against the backdrop where the OPEC+ production supply cuts may not be extended past the end of the month, the recent US-Iran tensions serve to neutralize an otherwise recently bearish fundamental environment for crude oil prices.
CRUDE OIL PRICES TECHNICAL ANALYSIS: DAILY PRICE CHART (SEPTEMBER 2018 TO JUNE 2019) (CHART 1)
(Click on image to enlarge)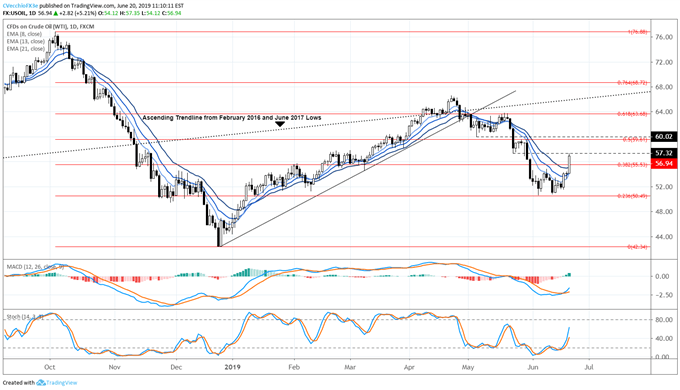 On Tuesday, ahead of the June Fed meeting, it was noted that "for the first time since May 22, crude oil prices are on the cusp of closing above the daily 8-EMA, with the daily candle forming a bullish key reversal. The bullish key reversal (a bullish outside engulfing bar at the low in a downtrend) forming today coupled with a break above the daily 8-EMA suggests the month-long selloff for crude oil prices may be coming to an end."