Crude Oil Price Stability Gives Room For USD/CAD Selloff - Can It Last?
The relaxation of tensions between the world's two largest economies around the US-China trade war has been a bonafide bullish catalyst for global financial markets. As investors have shifted away from their safe haven preferences and moved into higher-yielding and high beta currencies, the commodity currencies have been able to claw back some of their precipitous losses that accumulated during August.
For the Canadian Dollar, the tailwinds are a bit stronger than its Australian and New Zealand Dollar counterparts thanks to a much stronger than expected August Canada jobs report. Now that the US-China trade war back in a state of détente, the correlation between Fed rate cuts and global growth concerns have eased off; in August, what was good for the USDCAD was bad for crude oil prices.
A further de-escalation of the US-China trade war may allow the typical historical relationship – crude oil up, USDCAD down – to be restored, if only temporarily.
CRUDE OIL TECHNICAL ANALYSIS: WEEKLY PRICE CHART (JANUARY 2016 TO SEPTEMBER 2019) (CHART 1)
(Click on image to enlarge)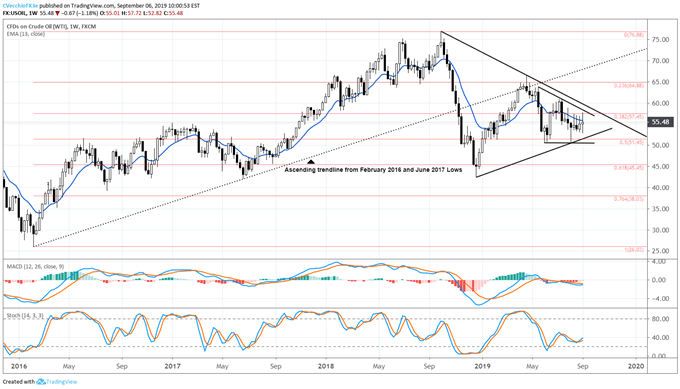 A fresh assessment of the weekly chart suggests that crude oil prices are mired in two long-term patterns of neutrality: since the start of May 2019, a descending triangle; and since the end of September 2018, a symmetrical triangle. Crude oil prices are hovering just below the weekly 13-EMA (one-quarter moving average). Meanwhile, weekly MACD and Slow Stochastics are in bearish territory but continue to drift higher. More patience is needed before a decisive break can be called.
CRUDE OIL TECHNICAL ANALYSIS: DAILY PRICE CHART (AUGUST 2018 TO SEPTEMBER 2019) (CHART 2)
(Click on image to enlarge)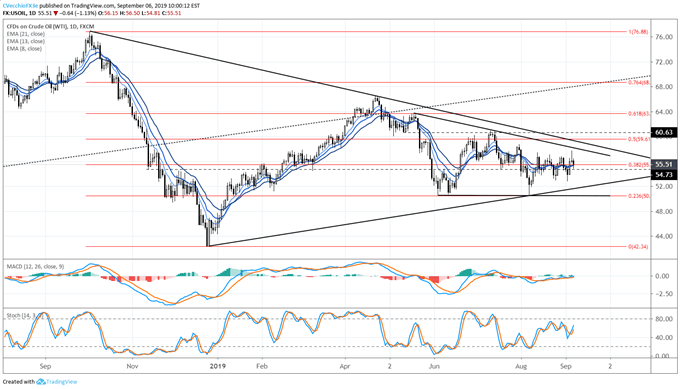 In our last crude oil technical forecast update, it was noted that "momentum in crude oil prices is flat at present time…that there is a lack of agreement among the technical indicators is clear; if crude oil prices are enduring another false breakout attempt, a 'return into the symmetrical triangle' may be judged upon a return back above the daily 21-EMA, currently 55.14."