Crude Oil Forecast: Timing The Next Big Trade
Oil Market Thoughts
WTI crude prices soared 25% on April 2nd for its largest single-day percentage gain in history after President Trump said he expects Russia and Saudi Arabia to announce a major output cut deal.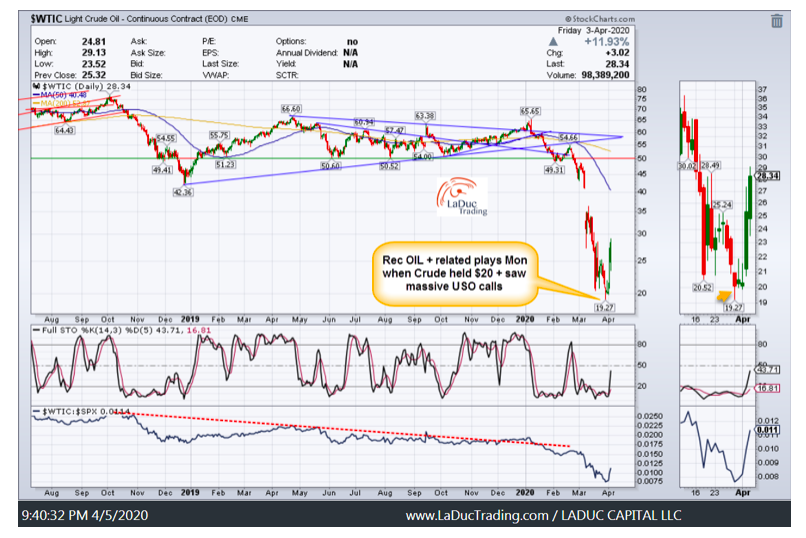 So we caught that Oil spike, but now what…
The world is waiting on WORLDPEC to announce an Oil cut to help normalize oil supply in a time of CoronaVirus demand destruction. Even if all agree, it will likely take a protracted time to re-balance the oil markets. The oil market remains in significant over-supply with potential demand drops of 10-20M bbl/d over the March-June period as COVID19 lockdowns destroy demand for petroleum products. This will and has led to significant inventory builds which has and will continue to overwhelm oil storage facilities and tankers.
Trump has threatened both Russia and Saudi Arabia to cut production (of an unrealistic 40%) or face retaliation including possible tariffs and other sanctions. The US has no plans to join a production deal, even if it could given Anti-trust laws that govern the 1000+ smallerUS producers.


Even if Russia and Saudis have agreed to oil cuts with OPEC+, will U.S. producers voluntarily cut production 30%-35% to offset plunging oil demand from COVID19 (and dwindling storage options)? Exec Chairman Harold Hamm of CLR, and advisor to Trump, told S&P Global Platts they would. Color me skeptical. I believe, as I stated Friday in my live trading room and leading up to the OPEC++ Friday meeting, that the path of least resistance is actually down short term until the speculators puke – Closer to $17, as I have been calling for about a month. Then Trump can come in and save shale – but not likely before.I'm not alone in my oil call; My favorite oil trader tweeted this weekend:TI at $17/bbl ought to help them get to where they need to be, snatching defeat from the jaws of victoryThen in DM he wrote: "specs are long up the gazoo", which is very different from two weeks ago when hedge funds were largely short….
Industry In Crisis
As John Kemp recently wrote in his Reuters article, we can get some idea of the extraordinary speed and scale of the disruptions in the oil market by seeing the "Weekly Petroleum Status Report" published by the U.S. Energy Information Administration on Wednesday.
THE LATEST WEEKLY REPORT REVEALS AN INDUSTRY IN CRISIS – UNABLE TO COPE WITH THE SIMULTANEOUS COLLAPSE IN FUEL CONSUMPTION AND RISE IN CRUDE PRODUCTION. – JOHN KEMP, REUTERS