Crude Oil Bulls: For Whom The Bell Tolls
The oil bull still managed to score another day of gains yesterday. A meager advance but still an advance, one could say. And be forgiven, as they would not have had examined the full picture. Are we just teasing you now? Come on, there can't be possibly more to the story... There is. The scenario that we wrote about exactly to the day two weeks ago, has come to fruition. The implications are far-reaching. Time to share.
Let's take a closer look at the charts below (charts courtesy of StockCharts).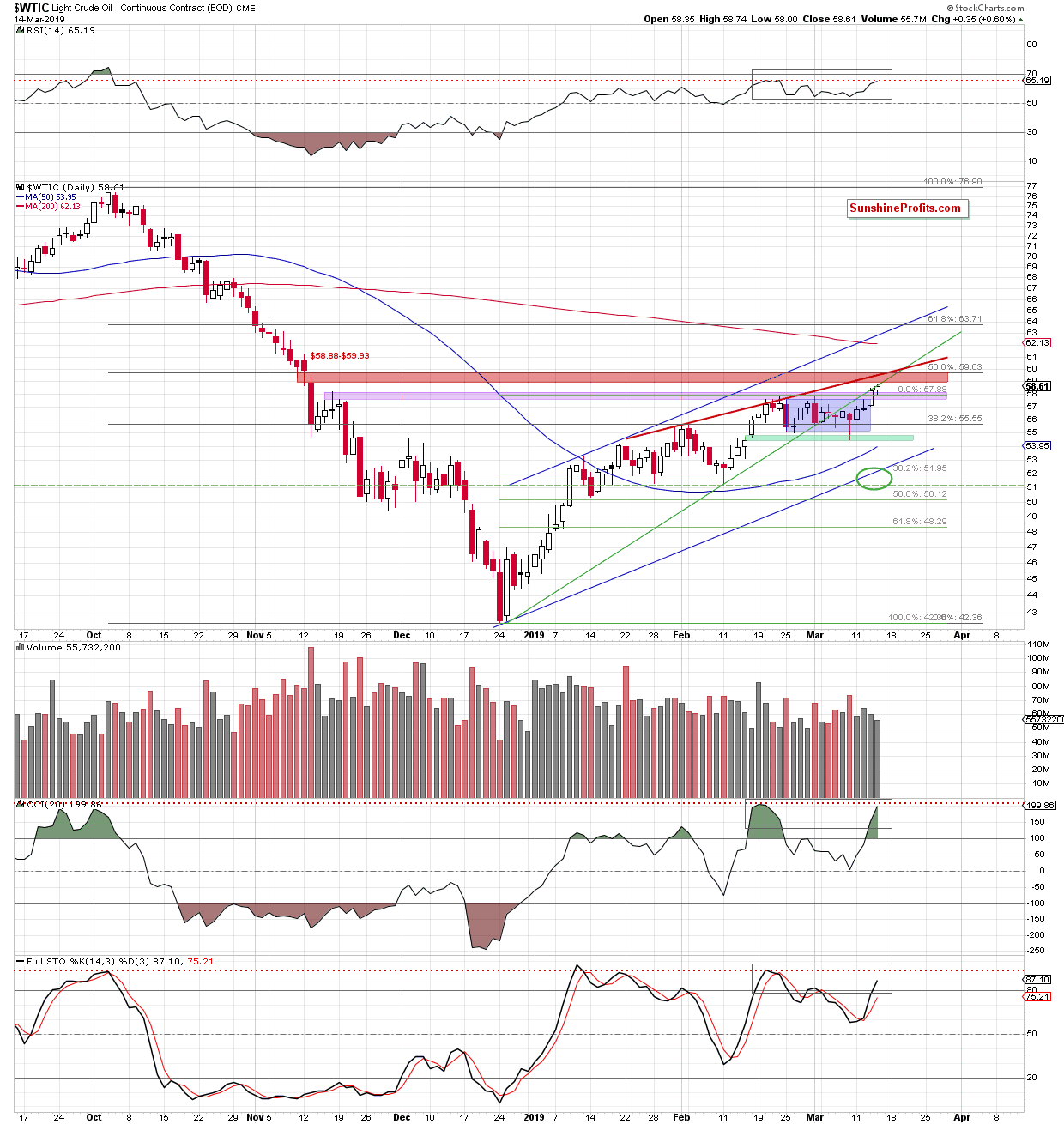 Yesterday, we wrote the following about Wednesday's session:
(…) Yesterday's session brought us another day of crude oil price gains, marking a fresh March peak. While not minuscule, the accompanying volume was still lower than the day before. The jury is still out but we lean towards the bearish implications thereof.
Take a good look at yesterday's candle. While it is yet another close higher, it was made on an even lower volume than the day before. This tips the scales ever more subtly in the favor of the bears – just like the fact that the body of yesterday's candle was smaller than the Wednesday's one.
Such price compression is a telling clue of a strong undercurrent at play. That is, the proximity of strong resistances nearby: the previously broken rising green support line and the rising red resistance line. Yesterday's close was yet another close below both of them. All in all, this increases the likelihood of an upcoming downward price reversal.
Additionally, there are clearly visible bearish divergences being formed between the RSI, the CCI, the Stochastic Oscillator and the price of black gold (we marked them with grey rectangles on the above chart). It's only the downward price move that is missing to complete them for all to see.
All the above doesn't bode well for the oil bulls' strength and increases doubts about the space for further improvement. Do you remember when we discussed the Elliott Wave perspective on March 1st? We've mentioned the very real possibility of the 5th wave higher, its target namely. Let's bring up the chart updated with recent price development and quote our thoughts from the March 1st Alert: