Crude Oil And Energy Stocks: It's Not The Cold Weather, It's The Business Cycle
In my article "Commodities And Stock Prices - It's All About The Business Cycle", I also explained why the trend of the business cycle and commodities are closely linked.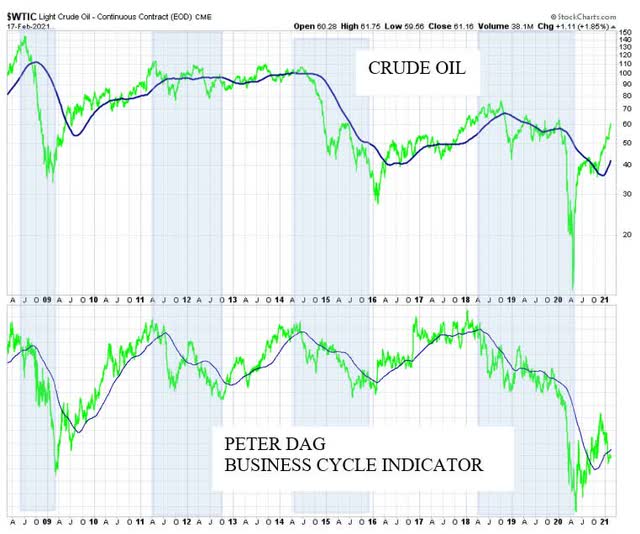 The above graph shows the relationship between the business cycle and crude oil. Crude oil prices, like other commodities, follow closely the turning point of the business cycle.
This pattern reflects the powerful forces unleashed by the business cycle. They move major commodities from lumber, to copper, to crude oil. Traders do not cause the trend of a commodity. The trend is produced by long-lasting business decisions about the need to change inventory levels. Cold or warm weather, cartels, trading disputes, supply-chain disruptions more often than not create "noise" around the main price trend. The real trend is caused by the business cycle.
The change in the price of crude oil, like that of many other commodities, has an impact on the performance of a company mining or transforming that commodity.
It should come as no surprise, therefore, to see the price of an energy company such as Exxon (XOM) follow closely the rising and declining trends of the business cycle and crude oil.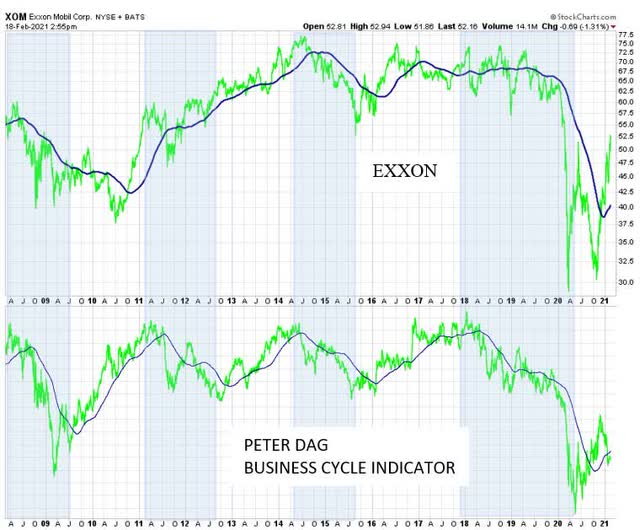 The above chart shows the graph of XOM (upper panel) and the Peter Dag business cycle indicator (lower panel), updated in each issue of The Peter Dag Portfolio Strategy and Management on peterdag.com.
The graphs of XOM are quite similar to that of crude oil. Its turning points, as for crude oil, correspond to the turning points of the business cycle and industrial production (see also first chart).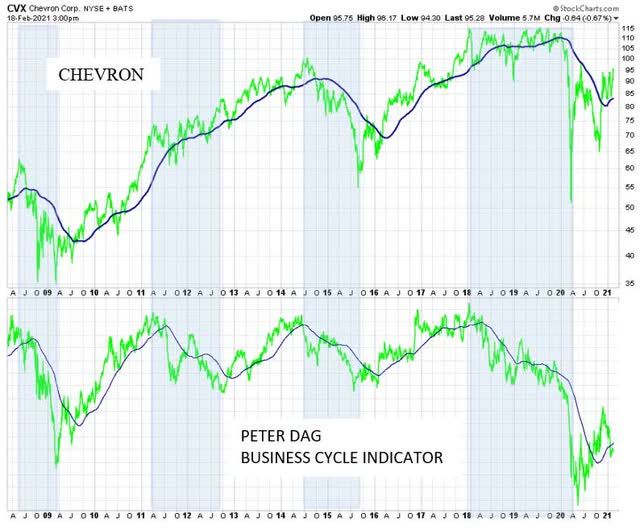 As shown in the above chart, the pattern of the price of Chevron (CVX) is also similar to that of XOM and crude oil.

Important takeaways
There is no question cold weather and extreme climate conditions - as those experienced in Texas - have an impact on commodity prices and crude oil in particular.
The above relationships, however, suggest the business cycle is the predominant force behind the main trends and turning points of crude oil and energy stocks.
Disclosure: I am long XOM, MPC.
Subscribe to The Peter Dag Portfolio Newsletter by clicking here.