Could Silver "Do A Palladium"?
Palladium was manipulated for years. It had the largest short position relative to its size, while physical demand rose inversely to decreasing supply.
In 2018, demand became so large that it overwhelmed the shorts.
Physical palladium could not meet the market's needs and prices exploded. Shorts eventually decreased their positions until they got to a more sustainable level.
For many years, the platinum/palladium ratio, shown on proprietary charts, averaged 2.4 to 1 in favor of platinum, stretched as high as 5:1 in 2009, but then collapsed for a decade into 2020, to where 1 ounce of palladium would buy 5 ounces of platinum!
Today, much like what was the case with palladium, the concentrated short position in silver is unsustainable.
Ted Butler has been writing about it for two decades, and we can be forgiven for thinking it will never change. But at some point soon, it appears the shorts WILL be overwhelmed.
Indeed, the rats are already leaving the sinking ship.
Witness Scotia Mocatta's exit, and if Ted is correct, J.P. Morgan's has reversed its long-standing position of being massively short silver, to going long.
Gold Silver Ratio over 50 Years
Through the 2020 Spike High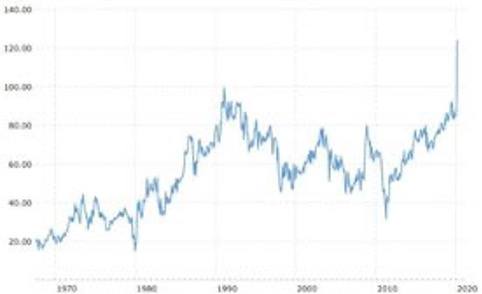 The "normal" Gold/Silver Ratio is set to fundamentally change.
Silver's price ratio to gold briefly hit 15:1 in 1980 and set a new record in March 2020 with a spike to about 125:1. But its "normal" range oscillates between 40 and 80.
Like a stone tossed into a quiet pool, the rings of effect will spread out in ever-widening circles, when (not if) this comes to pass.
As Willem Middelkoop, author of The Big Reset says, "If silver breaks, then the gold manipulation might break as well, and then you will have a real crisis within the monetary system because then the dollar system is at risk... This is what can happen, and I believe will happen to silver...
There are structural changes for silver in the supply/demand metric, projected growth of new use cases, degradation of a decades-long pattern of unrestrained "paper silver" futures, and mining share selling – not to mention changing investment demand ratios compared to industrial use.
Disclaimer: Money Metals Exchange and its staff do not act as personal investment advisors. Nor do we advise about or advocate the purchase or sale of any regulated security, listed on any ...
more