Coal To Gas Switching – 2012 Déjà Vu?
The amount of gas and coal burns in the power markets go beyond simple economics when the price spread between gas and coal is very narrow as observed in 2012 – see figure below. Those attempting to use supply stacks or historical calculations will likely see incorrect numbers. When the price spread is high, those methods will work quite well, as long as the markets do not observe large retirements or new builds in the power fleet.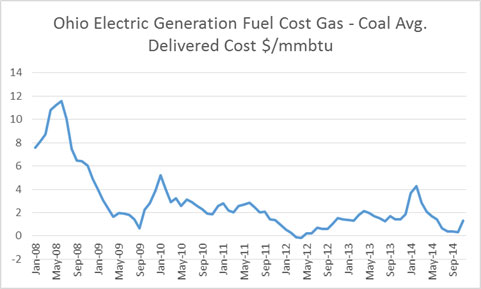 To demonstrate the issue with low gas to coal price spread, we present our calibration results of fuel burns over the last few years. Please note the 2012 discrepancy. One could conclude our models are fatally flawed.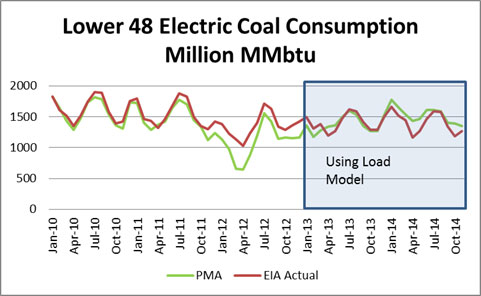 However, the goal of PMA is to understand the markets and quantify the risk in the market place. The calibration run represents the default runs that we run forward in time in our BASE case. The key inputs, which drive the BASE case, are weather, economy, and commodity price. Two large areas not demonstrated in the base inputs are outages and utility operations. However, these are simulated in our risk runs that run daily with the BASE runs. The default outage profiles in the BASE case were developed based on a unit by unit investigation over a 5 year period. For the 2014 deviation, much of this can be attributed to outages which are captured in our risk cases. The winter deviation was discussed in our winter assessment. In addition, greater maintenance outage occurred in the shoulder months in 2014 as units have been installing FGD, SCR, and baghouses for the EPA regulations. The relevant issue for 2015 summer is how coal generators plan to operate and dispatch their plant. In the BASE case, utility operations are assumed to be market driven. However, in 2012, this is not what happened for several coal units.
To prove this, we re-ran the BASE case with modifying the market behavior of several coal units. Now the figure of coal consumption matches quite well in 2012.
Contact us to get a range of coal and gas consumption in the power sector plus power prices. more