Biden Proposes $6 Trillion Budget. Will Money Flow Into Gold?
Biden proposes $6 trillion of government spending in the 2022 fiscal year. This continuation of ultra-loose fiscal policy could support gold in the long run.
Image Source: Pixabay
On Friday (May 28), the White House presented the President's budget for the 2022 fiscal year that starts on October 1, 2021. Biden trumped Trump and proposed $6 trillion, over one trillion more than Trump in his last year's proposal for $4.8 trillion. Furthermore, POTUS wants to raise government outlays to up to $8.2 trillion by 2031.
According to the White House, the proposed fiscal agenda will further increase the total federal debt-to-GDP ratio, from the current 129.1% to 136.9% by 2031. Meanwhile, the federal debt held by the public is estimated to rise from the current 100.7% to 108.5% of the GDP. The current level of the US public debt compared to the size of the economy is presented in the chart below.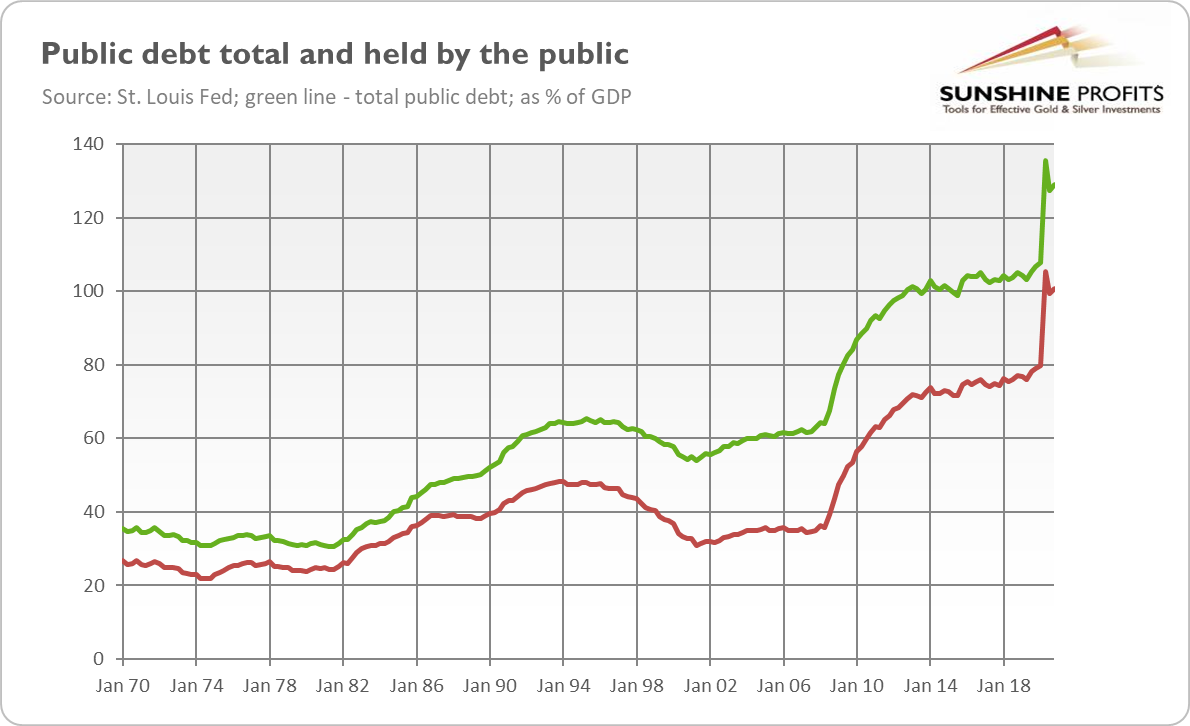 Despite the increase, Janet Yellen, Treasury Secretary, said that "it is a fiscally responsible program". Yeah, right. Of course, it's true that real interest rates are very low, and therefore the debt service costs are bearable; but the interest rates could go up one day. And even when the bond yields are low, there is still the crowding out effect and other negative consequences, as higher government expenditures imply higher taxes and fewer resources for the private sector. Last but not least, the GDP has practically returned to the pre-pandemic level, so such big fiscal programs are clearly excessive and could add to inflationary pressure.
Implications for Gold
What does the budget for the next fiscal year mean for gold prices? Well, although Trump was trumped in the last elections, trumpism is still doing well. Here I'm referring to the fact that Trump started to balloon the government spending and fiscal deficits well before the pandemic. Then the coronavirus hit and the fiscal policy became even looser. And now President Biden raises the stake, widening the budget deficit and public debt despite the recovery from the economic crisis.
Disclaimer: Please note that the aim of the above analysis is to discuss the likely long-term impact of the featured phenomenon on the price of gold and this analysis does not indicate (nor does ...
more