Are Technicals Pointing To New Gold Rally?
Although we tend to focus more on the fundamentals, the technical indicators can offer important insights. Such as right now.
Many traders, investors, and momentum players will closely examine the market trend to determine if and when to enter or exit the market.
Image Source: Unsplash
A market with a strong technical foundation can launch to dizzying heights, while a market displaying weak technicals will have a tough time putting together any sustainable upside.
The gold market has been primarily range-bound for the last two months. The $1700 and $1800 levels have acted as support and resistance. Medium-term, though, gold has been in a downtrend since its $2,100 high last August.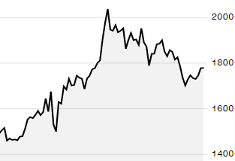 18-Month Gold Prices
The chart has provided some clues, however, that suggest the bulls are finally regaining traction and the market is potentially gearing up for a breakout above $1800 in the coming weeks.
Two distinct clues stand out currently that could point to higher prices…
First, the market has been making higher swing highs with higher lows. Second, the volume on any pullbacks has been very light, whereas the volume on the upside has been stronger.
The market, if it does in fact stage a breakout above the $1800 area, will have carved out a short-term double bottom. This type of chart pattern is reliable and points to upside gains at least the height of the pattern from bottom to swing high, i.e., a $100 rally.
Against the backdrop of improving technicals in the gold market, the yellow metal also enjoys support from fundamental factors such as increasing inflation fears, easy monetary policies, and staggering federal deficits.
The Federal Reserve is meeting again this week and will announce its decision on policy and hold a press conference today to spin its message out to the financial markets.
No changes are expected from the central bank, but market participants will pay very close attention to the bank's commentary looking for any clues about the path of policy going forward.
Disclaimer: Money Metals Exchange and its staff do not act as personal investment advisors. Nor do we advise about or advocate the purchase or sale of any regulated security, listed on any ...
more