Alon USA Energy - This Refiner Pays A 3.9% Yield, And Could Advance More Than 45% In 2016
On Friday, December 18, Congress passed a $1.1 trillion budget bill to avoid a U.S. government shutdown. Included in the bill was a measure that effectively ended a 40-year ban on oil exports. The lifting of this ban has huge impacts for U.S. oil refiners as global crude oil prices adjust to the new dynamic.
Today, investors have an opportunity to benefit from a pullback in refiner stock prices. Shares of these companies have traded lower as investors worry about competitive pressures now that U.S. oil can be sold abroad.

While U.S. refiners do face some unique challenges from this shift, the pullback should represent an attractive buying opportunity. In particular, shares of Alon USA Energy (NYSE: ALJ) could rally 45% over the next year. Meanwhile, investors can enjoy a 3.9% yield while they wait.
Free Trade Reverses An Advantage for U.S. Refiners
Widespread use of shale rock "fracking" has led to an oversupply of oil in the United States. Since the U.S. has previously banned exporting this oil, increased production has led to high crude oil inventories in the U.S., and by extension lower U.S. crude oil prices.
Of course it is no secret that oil production in the Middle East has also been very high. Saudi Arabia has intentionally kept production levels high in an effort to drive the price of oil lower and make it less economical for U.S. shale producers to drill.
So around the globe oil prices have dropped. But for most of the last year, U.S. oil has traded at a discount to oil outside of the U.S. This is largely because U.S. oil could not be exported. The traditional measure of this price differential is the Brent / WTI spread. Below is a chart of the Brent / WTI spread over the last 12 months: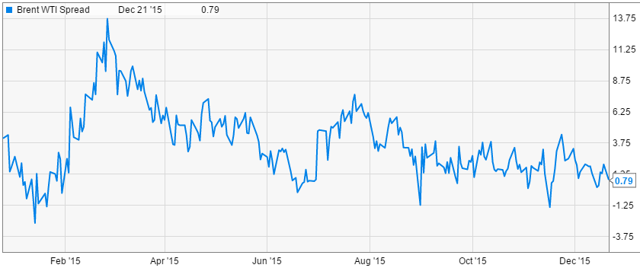 (Source: YCharts)
A higher reading on this chart indicates that Brent (non U.S.) oil is trading for a much higher price per barrel, while a lower reading indicates parity (or a discount for Brent in extreme cases).
Continue reading at Seeking Alpha.