A Strong Signal For A Secular Bull Market In Gold
As shown in the graph below, the first half of 2020 produced an unusual change in the relationship between gold prices, stock prices, and recessions, something that has only happened twice before in the last fifty years. Each of the two previous times this has occurred after a long run-up in stock prices, it has been part of a cyclical change to a cycle favoring gold over stocks for a decade or more thereafter.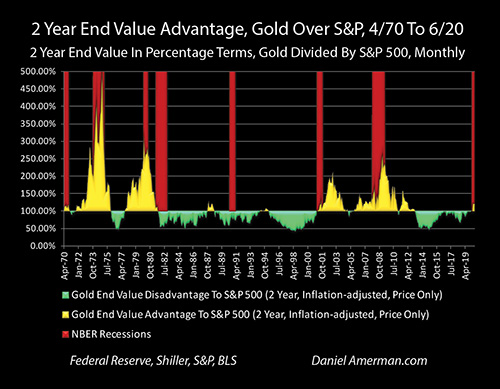 What the graph shows is the rolling 2-year advantage to gold over stocks on a monthly average basis, expressed in percentage terms. (So that monthly average prices for June of 2020 were compared to prices for June of 2018, average prices for February of 1982 were compared to those of February of 1980, and so forth). Where the area of the graph is gold, there is a two-year running advantage to gold, and where the graph is green, there is a two year running advantage to stocks.
As developed in previous analyses, the purpose behind this medium term measure is not day trading, or monthly trades, or even annual trades. Instead, it is used to knock the statistical noise out from shorter term measures, and to identity secular cycle swings between stocks and gold, where the advantage shifts from a long term cycle strongly favoring one asset, to a long term cycle strongly favoring the other asset.
As we will develop in this analysis, what we are now seeing with the new height of the gold area in 2020, and the sharp contrast with 2013-2019 has never happened outside of a secular cycle strongly favoring gold over stocks - with one exception, consisting of ten months in 1987-1988.
However, there was no recession at that time. So when we also take into consideration the factor of the red bars of historical recessions and the circumstances associated with the current recession, then we can indeed say that what we are currently seeing has only happened twice before after a long cycle favoring stocks over gold (at least within the fifty years studied).
This analysis is part of a series of related analyses, which support a book that is in the process of being written. Some key chapters from the book and an overview of the series are linked here.
Understanding The Contracyclical Relationship
This analysis is an important market update, but it is not intended to be a stand-alone explanation of the two-year rolling end value ratio, the secular cycles, or the extraordinary swings in profits or losses that can produced from the contracyclical relationship between stocks and gold. That information is developed in Chapter Nineteen (link here), and that is the place to go if you have any questions about the measures, the methodology, or the many implications for investment purposes.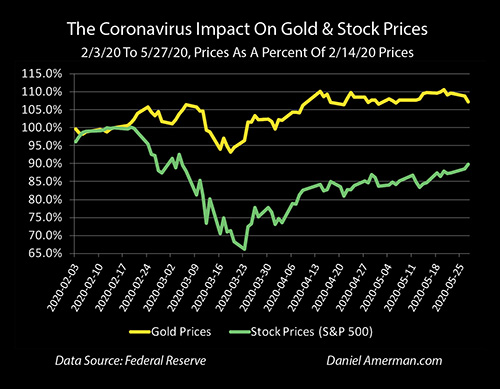 As developed in the analysis linked here, a major gap developed between gold prices and stock prices (as represented by the S&P 500 index) as the coronavirus pandemic enveloped the world, and the resulting shutdowns devastated economies and employment. The prices are shown in percentage terms, relative to the prices of gold and the S&P 500 on February 14th, shortly before the breakout occurred.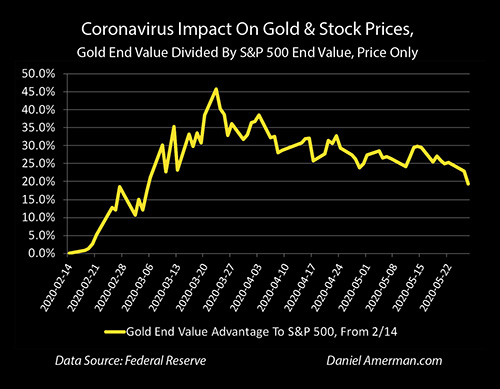 In that analysis, we started with an investor on February 14th and compared how much their gold would be worth on each day thereafter if they had been invested in gold, compared to what the value of their stocks would have been if they had invested in the S&P 500. As an example, if gold was up 5% to 105%, and stocks were down 5% to 95%, the investor would have been 10.5% better off if they were in gold instead of in stocks (105% / 95% = 110.5%)
Looking at the actual numbers, someone who chose gold over stocks would have been 10% better off by February 24th, 20% better off by March 6th, 30% better off by March 9th, and would have peaked at being 46% better off on March 23rd, the same day the S&P 500 bottomed out at 2237.
This was a very clear cut, real-time example of what my research has led me to believe is actually the most valuable use of gold for investors, which is not to use gold solely as a hedge for inflation, but to at the same time also use gold as a contracyclical asset relative to stocks, with a particular value in times of crisis (and crisis is not the same thing as inflation).
Gold over those weeks and months performed exactly as the last fifty years indicated it was supposed to, in comparison to stocks. This happened without any spike in inflation, and indeed there was a bit of deflation if we compare the Consumer Price Indexes for those same months of February to May that are shown in the graphs (before partially recovering with a bit of inflation in June).
However, there is a problem with relying too heavily on price movements over a period of a few months. When I studied those shorter-term price movements over the fifty years - I just didn't find them to be all that useful or reliable. Looking at the shorter-term price movements, there was a lot of randomness and "choppy" price movements, where sometimes gold and stocks would move the same direction, and sometimes they would move opposite directions. It was really hard to say whether a relative movement of gold versus stocks over a month or a few months would be at all reliable when it comes to anticipating how gold would perform relative to stocks over the next few years, or five to ten years.
But when I used the six stages of analysis laid out in Chapter Nineteen - then most of the noise dropped out, and a very clear and strong contracyclical relationship emerged, with one critical aspect being moving to a two-year rolling end value advantage being a much better indicator for the secular cycles and changes in the cycles.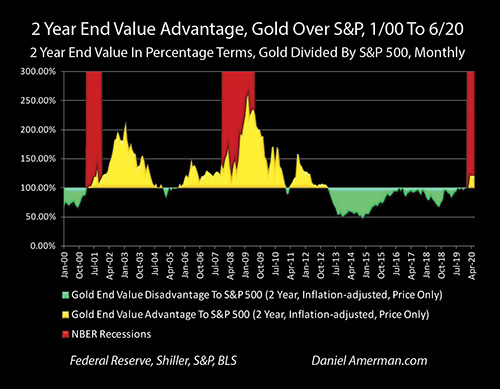 Because the first half of 2020 is a little hard to see on the fifty-year graph, I'm including the same graph above, but am now just covering the period from January of 2000 through June of 2020. On a monthly basis, the change in the two-year rolling average is now very clear cut and easy to see.
The two-year rolling advantage jumped up to 22% when we compare March of 2020 to March of 2018, and then it was 21% for the Aprils, 22% for the Mays, and 20% for the comparison between June of 2020 and June of 2018.
It is very important to note that this is a relative relationship, not just stocks, and not just gold. The 22% two-year rolling advantage to gold was strongly influenced by the precipitous decline in stock prices in March of 2020 down to 2652 (monthly average) - but it was also based on the two-year increase in gold prices from an average of $1,325 an ounce in March of 2018 to $1,592 an ounce by March of 2020.
Learn more about the free book.
Disclosure: This analysis contains the ideas and opinions of the author. It is a ...
more