A Strategy For The Buy Low, Sell High Mantra
So, what happened yesterday in gold and silver with regard to volume?
(Click on image to enlarge)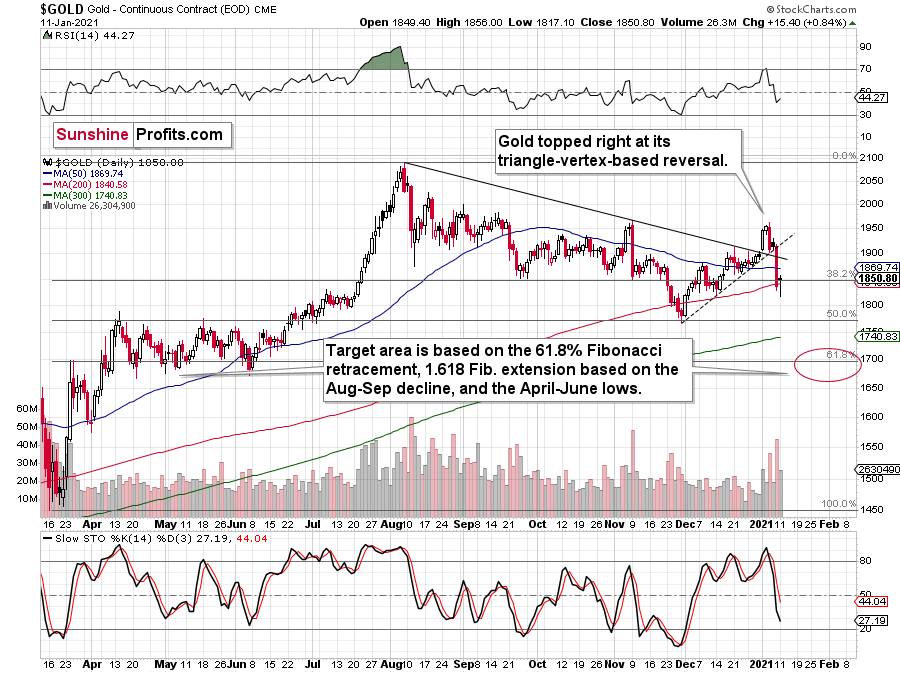 Figure 1 – COMEX Gold Futures
(Click on image to enlarge)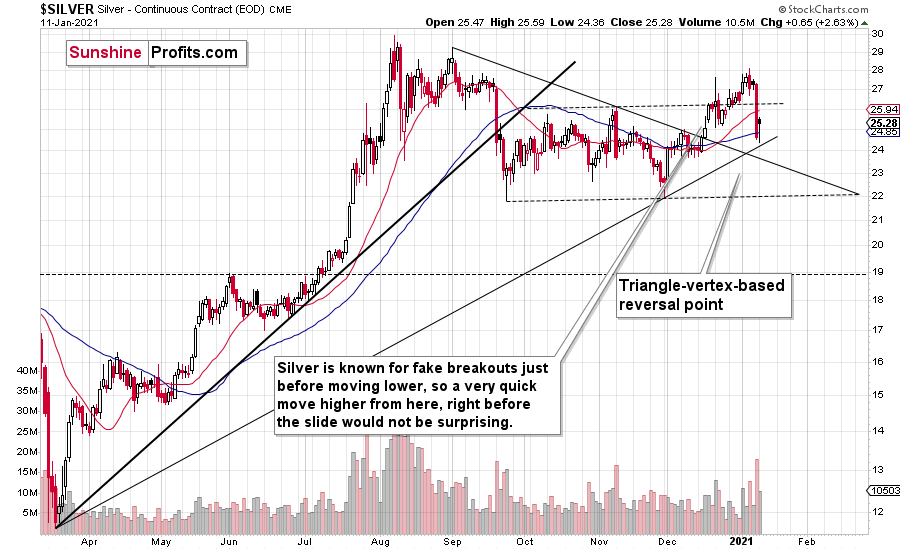 Figure 2 – COMEX Silver Futures
The volume was notable, but it was not huge. So, did gold form a critical reversal? Not really. It corrected some of its declines and took form of a reversal, but it didn't have the reversal's "spirit". The bulls didn't seem to have overpowered the bears. What seems to have happened instead, is that bears took a break after a massive daily victory.
You can see a good example of a clear reversal in silver, on Sep. 24, 2020. The volume was the second biggest in a month and slightly bigger than what accompanied the previous day's decline. And indeed, that was a bottom for months.
Gold doesn't feature any crystal-clear reversal example in recent history, but the closest to it would be the Aug. 12, 2020 session. Back then, gold reversed, but the rally was over in a week. So, did the reversal really work? It did, but only to some extent. And what kind of volume preceded it? It was big, but not huge. It was big enough to show a bull's strength, but it was not truly groundbreaking. Thus, a limited reaction was perfectly justified – and that's what we saw.
Getting back to the current situation on Monday, the volume was relatively average, so I don't think one should focus on the "default, bullish" implications, because this is not a "default bullish" reversal. It's a suspicious reversal that might have actually been a breather, so forecasting gold's rally here would likely be a mistake. The volume doesn't indicate that it was an important reversal – it's only the price that indicates that.
So, will gold and silver plunge immediately? Perhaps, and perhaps not. Friday's (Jan. 8) decline was quite profound, so a few extra days of back-and-forth movement or even a small rally, wouldn't be surprising. The overall trend is down, and since the USD Index has already (most likely) bottomed, more downside should be expected for the precious metals.
Disclaimer: All essays, research, and information found on the Website represent the analyses and opinions of Mr. Radomski and Sunshine Profits' associates only. As such, it may prove wrong ...
more