A Silver Lining In Our Futures
They are valued by industry for their chemical properties, especially silver which holds pride of place in having the highest thermal conductivity and light reflectance of any element found so far.
It holds intrinsic value for the person on the street who uses it for jewelry or as a hedge against future catastrophe. Of all the metals Gold and Silver can be traded in physical form or ETFs, and their prices can be tracked by any novice with access to a smart phone.
Both these metals tend to be spoken of in the same sentence; gold has always dominated the Metal space and is usually an indicator of how metals are going to perform.
A disastrous 2018 has seen the price of these metals plunge over 14% for Silver from over $17 per Troy Ounce in January to a low of just over $14 in November, and for Gold from $1,362.40 per troy ounce to $1,176.20 in August.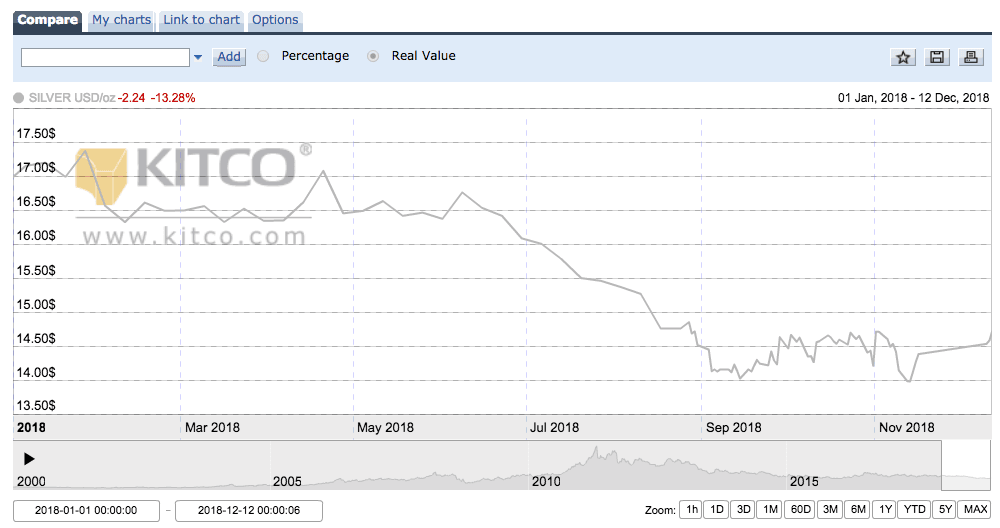 Reasons vary all the way from an unusually strong rally of the dollar to falling industrial output etc. etc..
Gold has since been trending upwards even as global currencies are shedding all the gains of 2018. As of early last week the price of Gold was $1,269.11 per troy ounce, Silver on the other hand barely registered any gains at all.
This is why you should take a look at silver. Silver touched a three year low in November testing the bottom at $14 per troy ounce, and unlike Gold is yet to really bounce back, also unlike Gold Silver tends to be more elastic – when the price peaks it books record profits, and when prices fall it just bottoms out. So considering Silver is touching a three year low and has found support at $14 per troy ounce, there's just one way for it to go.
As of now experts are looking at Silver to be anywhere between mildly bullish with gains of 20% all the way to wildly bullish with gains exceeding 50%.
Over the last week spot prices of silver have jumped from 468.30 USD/KG to 493.06 USD/KG. And as I've always said – The Trend is Your Friend. So get on the silver train before it leaves the station.