A Check On The Monthly Chart For Gold To Offer Some Insight Into The Future
(Click on image to enlarge)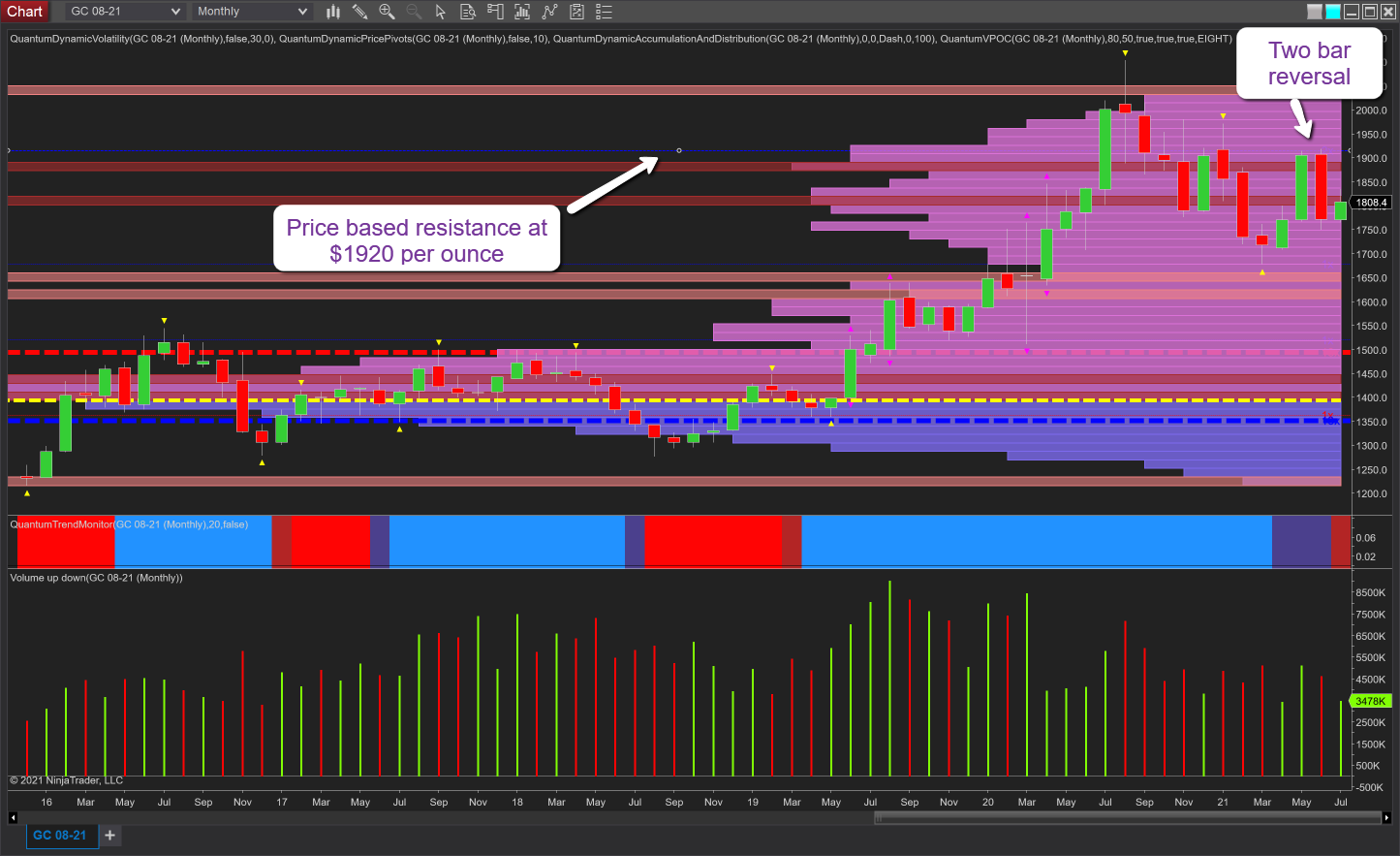 Attempting to forecast the future direction for gold is proving tricky at present from a daily perspective so in order to offer a longer-term perspective I have stepped down to the monthly chart to see if we can gain a better insight into the outlook for the precious metal. And looking at the chart the best description of the price action would be 'wallowing in congestion!'
The long-legged Doji candle of August last year was the pre-cursor to the current indecision which has remained in place ever since, albeit with a bearish overtone tone with prices sliding lower. Perhaps the most significant price action is that of May and June 2021, where we have two up candles the second of which is very strong. However, this is followed immediately by the subsequent month's strong down candle. What this means in effect is if we overlay one on top of the other the resultant candle is one with a small body and deep upper wick. In other words, a sign of weakness is further reinforced by the trend monitor indicator which is beginning to transition from bullish to the dark red of potential bearish sentiment. Moreover, as can be seen, the price-based resistance denoted with the blue dashed line of the accumulation and distribution indicator at $1920 per ounce also came into play, capping May's advance, in a price region where previous rallies had stalled last year. In addition, as the metal consolidates, so the volume builds on the VPOC histogram, adding to the general malaise and a further layer to the labored progress higher. Remember, volume on the VPOC histogram acts in the same way as price-based support and resistance, and the heavier the weight of volume on an area, the greater will be the effort required to move through it.
So in summary, all we can say at present with any degree of certainty is that the bullish tone for gold of 2020 has not translated through into 2021, and it seems we are set for further congestion as the metal struggles to move away from the $1800/$1900 per ounce region while developing an increasingly bearish tone. To the downside volume on the VPOC histogram falls away as we approach $1700 per ounce with a low volume node following, so any sustained move lower will require significantly less effort should the metal fall this far. The bright spot on the horizon for gold is inflation, but even this seems to have dimmed over the past few months, and until it reappears with conviction, will remain a glimmer of hope for gold bugs.
Disclaimer: Futures, stocks, and spot currency trading have large potential rewards, but also large potential risk. You must be aware of the risks and be willing to accept them in order to invest in ...
more