3 Reasons Why Inflation Will Rise And Support Gold Prices
Inflation rose in February, and it appears that more inflation is coming down the road. This development can, in fact, be good for gold.
The U.S. CPI inflation rate rose 0.4% in February, following a 0.3% increase in January. The jump was driven by a 6.4% spike in gasoline prices. The core CPI rose 0.1%, following no change in the preceding month.
So, inflation rose a bit in February, which is more clearly seen on an annual basis. The overall CPI increased 1.7 percent over the last 12 months, following a 1.4% increase in January. The core CPI rose 1.3%, following a 1.4% rise in the preceding month. Hence, as the chart below shows, although inflation remains below the Fed's target, it has increased significantly since the bottom in May 2020.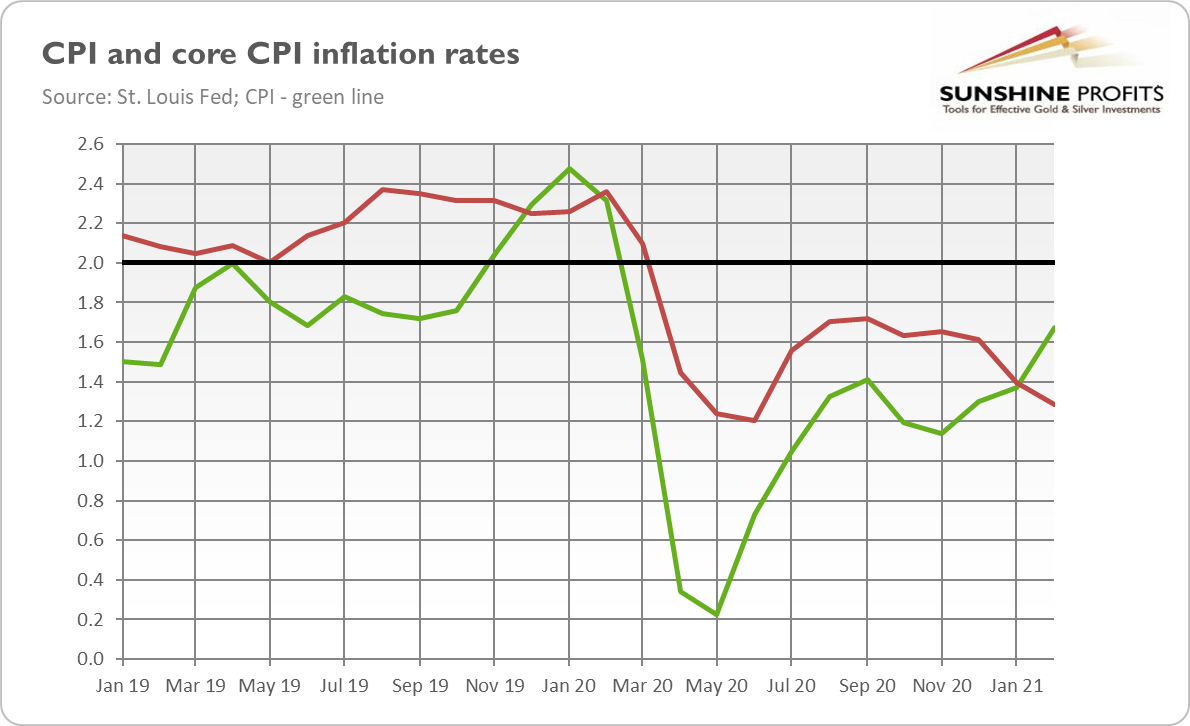 And it may rise further in the coming months.
The first reason is purely statistical and relates to the low base effect. I'm referring here to the fact that oil prices have seen a deep plunge in March and April 2020 (remember negative WTI oil prices?), so we will see a surge here on an annual basis.
Second, manufacturers are struggling with significant price increases for raw materials and intermediate goods. Because of disruptions in supply chains and logistics (it's not easy to obtain containers and get product through ports in these times), there is a rise in input and transportation costs. Entrepreneurs are also reporting shortages. In the Institute for Supply Management's February manufacturing report, we can read following producers' comments:
"Supply chains are depleted; inventories up and down the supply chain are empty. Lead times increasing, prices increasing, [and] demand increasing."
"Prices are going up, and lead times are growing longer by the day. While business and backlog remain strong, the supply chain is going to be stretched very [thin] to keep up."
"Things are now out of control. Everything is a mess, and we are seeing wide-scale shortages."
"Labor shortages at suppliers are affecting material deliveries and prices."
"We have seen our new-order log increase by 40 percent over the last two months. We are overloaded with orders and do not have the personnel to get product out the door on schedule."
"Prices are rising so rapidly that many are wondering if [the situation] is sustainable. Shortages have the industry concerned for supply going forward, at least deep into the second quarter."
Disclaimer: Please note that the aim of the above analysis is to discuss the likely long-term impact of the featured phenomenon on the price of gold and this analysis does not indicate (nor does it ...
more