1.9 Trillion Reasons To Rethink Precious Metals
Indian hip-hop star and gold enthusiast Bappi Lahiri. His gold is down year-to-date, like everyone else's (Image via The Quint).
Where's Your Gold Now?
January 6th, 2021. That was the day after the Democrats won the two Senate runoff elections in Georgia. It was the first day the market knew for sure that an enormous COVID relief spending bill would pass both Houses of Congress and get signed into law. The House passed that $1.9 trillion spending bill on Wednesday, but since January 6th, investors knew it was coming eventually. The Democrats had the votes. So how have gold and silver done since then? Not well.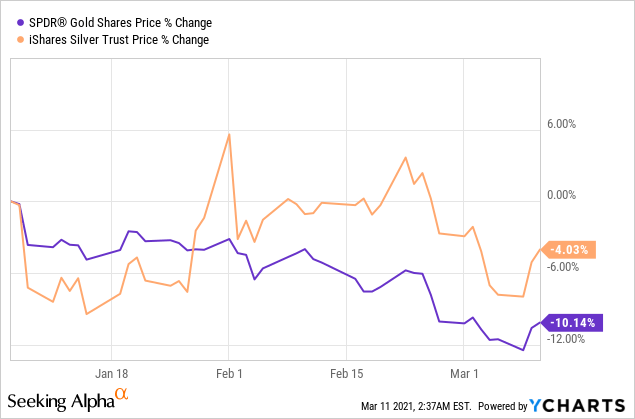 There was that head-fake silver rally at the beginning of February, but both the iShares Silver Trust (SLV) and the SPDR Gold Trust (GLD) are in the red since Jan 6th.
"That's Just Paper Silver And Gold"
Okay, let's look at the Sprott Physical Gold Trust (PHYS) and the Sprott Physical Silver Trust (PSLV).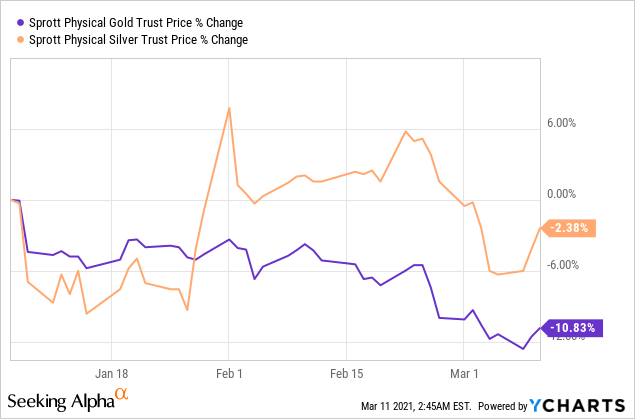 They're down since Jan 6th as well.
Updating Your Beliefs On Precious Metals
Several years ago, we interviewed a leading Super Forecaster from Phil Tetlock's Good Judgment Project. We were reminded of that last month by this tweet.
When's the last time you updated your beliefs on precious metals?
If you own precious metals because you believed massive, deficit-financed government spending would boost gold and silver as inflation hedges, you now have 1.9 trillion reasons to update that belief.
Modern Monetary Theory Describes Reality
There are a lot of things in the $1.9 trillion dollar spending bill reasonable people can oppose politically. For example, it's going to bail out poorly-run cities and states. But it's probably not going to spark a lot of inflation. Modern Monetary Theory may be controversial, but the results of the previous COVID relief spending (not to mention spending for the wars and bank bailouts earlier this century) suggest it describes reality fairly well. What causes inflation isn't government deficits per se, but too large a supply of money chasing too few goods and services. Here's a simple thought experiment to illustrate.