Chlorine Prices Explode Just In Time For Peak Pool Season
Here's another example of the butterfly effect.
By now everyone knows that a March fire at a plant owned by Japanese chipmaker Renesas was the straw that broke the semiconductor camel's back, and what were already stretched chip supply chains collapsed, forcing countless companies - from carmarkers to defense contractors - to put production on halt indefinitely until chip inventories had restocked.
But did you know that a fire at a factor last summer could make operating a swimming pool this year prohibitively expensive?
Late last summer, a massive fire broke out at a chemical plant in Lake Charles, LA after Hurricane Laura passed overhead. The chemical blaze was extinguished after three days, and was quickly forgotten... until this week, when Goldman reported that the August 2020 fire had sparked industry-wide chlorine shortages and price inflation.
In recent weeks this story has received more widespread attention as media outlets nationwide have begun covering the severity of the problem, highlighting the possibility of a chlorine shortage during peak pool season in the summer months. Back in March, Goldman surveyed 11 regional pool retailers who at the time unanimously indicated that chlorine prices were on the rise, with most expressing uncertainty with regard to whether or not they will have enough chlorine to sell for the upcoming pool season.
In retrospect, the answer was a resounding no: according to IHS Markit, chlorine prices were up ~37% YoY in March 2021, with prices expected to surge 58% from June to August this year.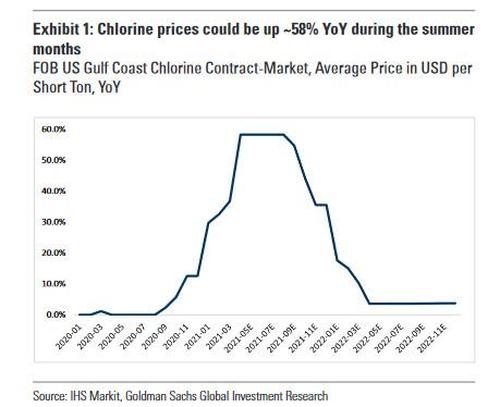 To address the fallout, Goldman surveyed 26 pool supply shops across the country, with most respondents located in pool-centric markets like TX, CA, NV, NM, and AZ. Of the 26 pool shops the bank spoke to, 15 expressed uncertainty or doubt when asked about whether they will have enough chlorine for pool season.
As if that wasn't enough, adding to the pressure created by the chlorine shortage, respondents called out a plastic bucket shortage, driven by COVID-related manufacturing slowdowns, which has made procuring certain volume sizes of chlorine more difficult for retailers, and has led suppliers to deliver chlorine in either bags or in buckets with different colored lids, according to respondents.
Disclosure: Copyright ©2009-2021 ZeroHedge.com/ABC Media, LTD; All Rights Reserved. Zero Hedge is intended for Mature Audiences. Familiarize yourself with our legal and use policies ...
more