Chart: Debt-To-GDP Continues To Rise Around The World
(Click on image to enlarge)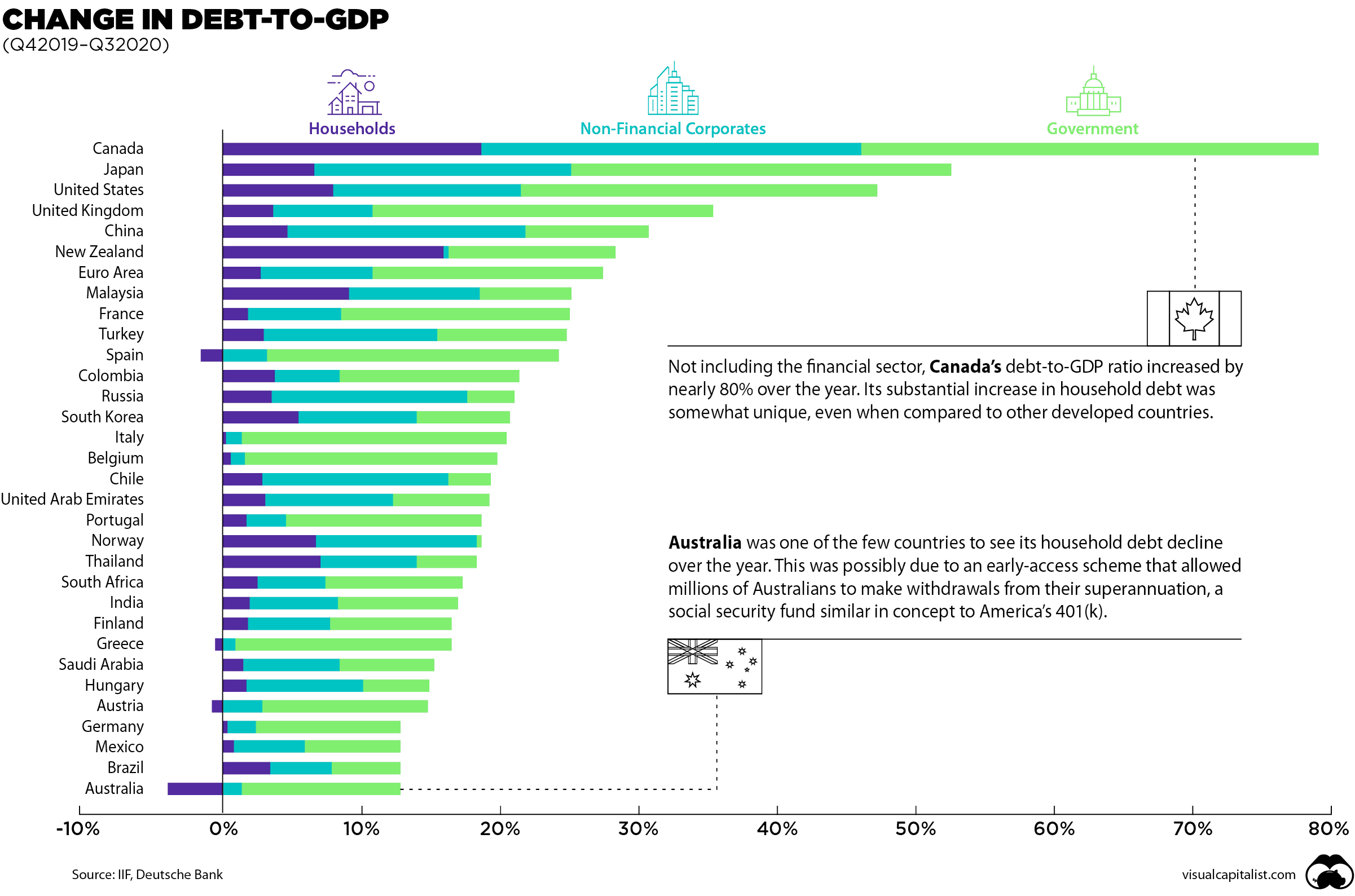 With vaccines slowly obtaining approval in various countries, the world may finally be on the path to overcoming the COVID-19 pandemic.
The economic situation, on the other hand, is unlikely to improve anytime soon. Falling revenues combined with costly pandemic relief measures have increased global debt by $20 trillion since the third quarter of 2019. By the end of 2020, economists expect global debt to reach $277 trillion, or 365% of world GDP.
Today's chart uses data from the Institute of International Finance (IIF) to provide an overview of where debt, relative to GDP, has increased the most.
Comparing Developed and Emerging Markets
Developed economies represent four of the five countries seeing the largest increases in debt-to-GDP, but looking from a more macro angle reveals that debt levels are rising at a similar pace around the world.
(Click on image to enlarge)
To put these figures into perspective, economists often use the debt-to-GDP metric, which compares a country's debt to its economic output. As the name implies, it's calculated by taking a country's total debts and dividing them by its annual GDP. Having a low debt-to-GDP ratio suggests that a country will have little issues paying off its debts, while a high ratio can be interpreted as a sign of higher default risk.
The actual definition of a "low" or "high" ratio is quite loose, though the World Bank believes there is a threshold for government debt at 77% of GDP. Every percentage point beyond this threshold has been found to detract 0.017 percentage points from annual growth.
Comparing Debt-to-GDP by Sector
To see how COVID-19 has affected the global economy since Q3 2019, let's take a look at each sector's debt as a percentage of GDP.
(Click on image to enlarge)
Within developed markets, government debt-to-GDP grew by 21 percentage points compared to 11 for non-financial corporates, and 6 for households. This is unsurprising as governments have supplied billions (or in some cases, trillions) of economic stimulus while also pulling in less tax revenue.