Cameco, Uranium Stocks Soar After BofA Predicts Jump In Global Uranium Demand
While we have previously laid out the bullish case for uranium stocks in general, and Cameco (CCJ) - which controls the world's largest high-grade uranium reserves and low-cost operations and is one of the largest global providers of the uranium fuel - in particular (here, here, here and here), today this thesis got a swift boost after a note from BofA which predicted that delayed plant closures could boost global uranium demand by 26Mlbs, unleashing a meltup in uranium stocks...
(Click on image to enlarge)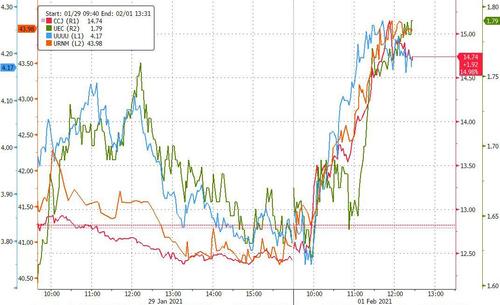 ... and sending Cameco up over 20%.
(Click on image to enlarge)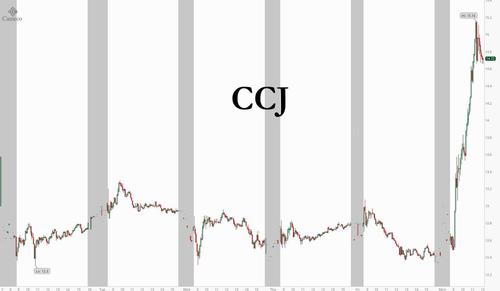 In a note published this morning, BofA analyst Lawson Winder, asks "what if expected U.S. nuclear retirements over the next 10 years were postponed?"
The reason for this speculation is that with the President Biden's inclusion of nuclear in his clean energy plan, the U.S. Democratic party increasingly embracing nuclear and Republican support, he examines "the benefit from hypothetical measures to prolong nuclear plant operating lives."
He then calculates that if expected closures in 2021-2030 were delayed to beyond 2030, "an additional 26Mlbs of global uranium (U3O8) demand over that period." And while this is just a 2% increase, it helps, "plus such a shift could lead to increased pressure on utilities to move forward new contracting."
Some background which we covered previously, per Winder:
In President Biden's 'Plan for a Clean Energy Revolution and Environmental Justice', nuclear, including the development of small modular reactors (SMRs), is included as a low and zero-carbon technology to help achieve its 100% clean energy target. With this, the Democratic party more broadly embracing "technology-neutral" de-carbonization of U.S. power generation and broad Republican support, U.S. nuclear plants that are planned for closure could receive federal government help to continue operating.
Disclosure: Copyright ©2009-2021 ZeroHedge.com/ABC Media, LTD; All Rights Reserved. Zero Hedge is intended for Mature Audiences. Familiarize yourself with our legal and use policies every ...
more