Calithera Biosciences: An Under The Radar Opportunity
Calithera (CALA) is approaching significant value inflection milestones with both its CANTATA and KEAPSAKE studies. CALA is a company we know very well as we have been covering it extensively for some time. The company expects top-line data from its CANTATA study of its lead drug Telaglenastat to read out between now and the beginning of 2021.
CANTATA is examining Telaglenastat (fka.CB-839) in combination with Exelixis' (EXEL) Cabozantinib (CABO) vs. placebo with Cabo in both second and third line clear cell Renal Cell Carcinoma (ccRCC). The study enrolled two sub cohorts of patients, either refracted to immunotherapy (PD-1 + CTLA-4) or another tyrosine kinase inhibitor (TKI) besides Cabo. CALA's latest guidance is for top-line (PFS) analysis to be ready by the end of this year or early Q1 2021.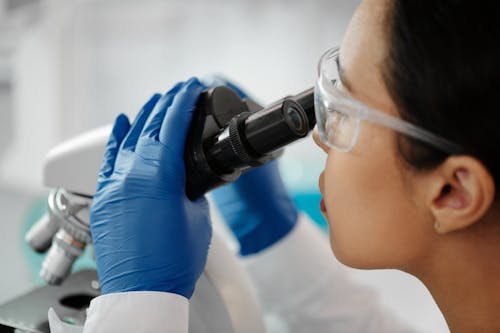 Image Source: Unsplash
The CANTATA study successfully enrolled 444 patients, far exceeding the original 298 target (which was later increased to 416). The company has clearly guided that it expects this trial to be registrational, which means if the trial is successful and because the drug is on The Food and Drug Administration's (FDA) Fast Track protocol, Calithera would (assuming good data) then submit a New Drug Application (NDA). The FDA then would inform the company within 60 days if it intends to grant a priority review. If priority review is granted, the FDA makes its decision to approve or not within 6 months - Telaglenastat could potentially be on the market before the end of 2021.
The CANTATA trial design reflects a broader shift that's been taking place in the RCC landscape, moving from sequential single agent therapy to combinatorial approaches. Patients in the past that failed one or two TKI therapies would move onto an mTOR inhibitor such as Everolimus as a salvage approach. However, Bristol-Myers Squibb (BMY) changed this with its all immuno-oncological combination of Nivolumab and Ipilimumab (Anti PD-1 +CTLA-4) approval in front-line RCC.
Since then, other combinations have been approved such as Pfizer's (PFE) Axitinib and Merck's (MRK) Pembrolizumab. In addition, an NDA was recently filed for Cabo and Nivolumab in the front-line setting following promising data.
For second-line RCC, the only combination with FDA approval is Eisai's (OTCPK: ESALF) TKI based Lenvatinib and Everolimus in RCC following TKI failure. From an efficacy standpoint, this combination significantly outperforms the single agent therapies, both according to its pivotal study and in other references summarized below:

Graphic source: Dan Cohen
Altogether, the studies above set the bar for CALA's CANTATA trial. The goal for CALA here is for the combination study to show significant superiority to Cabo alone. According to EXEL's METEOR trial results, the bar to exceed is 7.4 months progression-free survival (PFS). However, it would be even more bullish for CANTATA to meet or exceed the bar efficacy set by the Lenvatinib combination by showing superior tolerability.
Toxicity is a significant concern for oncologists to consider before treating patients with the Lenvatinib combination in second line RCC refracted. These toxicities were particularly evident within the gastrointestinal tract, making the combination ill-suited for the elderly and frail.
According to Dr. Chung-Han Lee at the Memorial Sloan Kettering Cancer Center, most people are using Lenvatinib/Everolimus in the third-line setting. It should also be noted that none of the above referenced studies enrolled patients who were refracted to Bristol's immunotherapy combination. This offers CALA an alternative path to market approval if the combination demonstrates superiority.
In CALA's phase 1b study that CANTATA is built on (n10, RCC), the company demonstrated that the combination of Telaglenastat and Cabo led to an ORR of 50% and a disease control rate of 100%.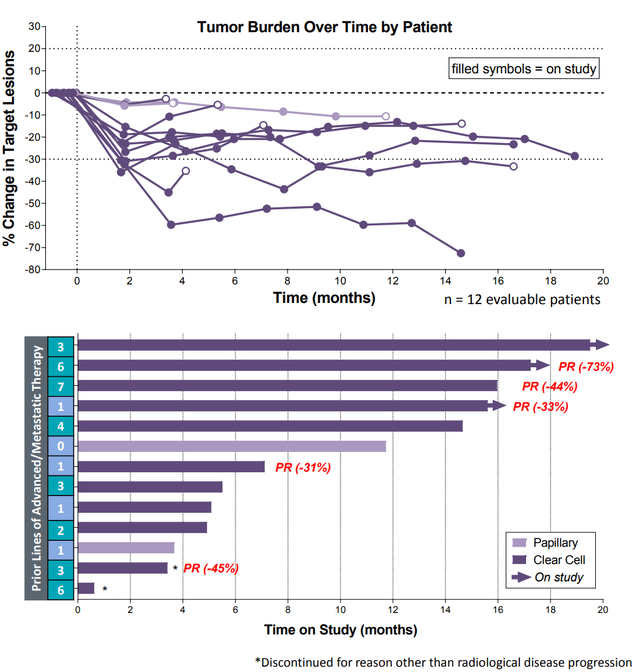 Chart and graphic source: Calithera.com
With a sAE rate of 4/13 (31%) vs. 68% in the METEOR study, it appears that Telaglenastat does not increase toxicity in any meaningful way in the combination treatment. So, if the improvement in ORR (50% v. 17% ORR in ccRCC) with the combination translates to PFS benefit, it would be likely that Telaglenastat would establish a new standard of care in second line RCC.
Disclosure: We are long CALA.
For more biotech commentary, investment thesis, trading ideas, join us daily during market hours on our live chat and audio at more