Building Material Prices To Remain High Until At Least The Middle Of Next Year
Cost of cement, concrete, and bricks probably won't fall before Q2 2022
Assessment of stocks of finished products and expected development of prices by building material suppliers (eg. cement, concrete & bricks), European Union (Balance on positive and negative answers in %)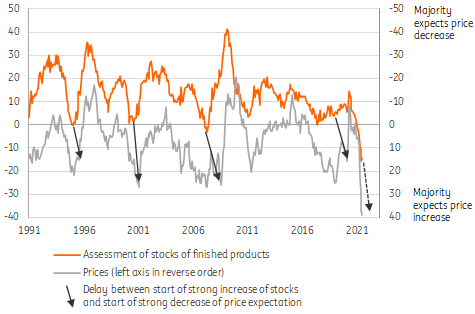 Source: European Commission, ING Research
High prices for concrete and cement until at least mid-2022
Correlation analysis shows that sales prices of building materials such as concrete, bricks, and cement react with a delay of approximately six to nine months to changes in the assessment of their inventories. However, at the moment we don't see any improvement in inventories for these building materials. In fact, quite the opposite. A record number of building material suppliers reported in July that they value their inventory of finished products as (too) low.
Therefore we first need to see some stock improvement, before the prices of these building materials stabilize, let alone decrease. So, taking the six to nine months price delay into account, we don't expect prices of concrete and cement to come down before the summer of 2022.
Price of timber will settle down earlier
The sales price of timber and steel has a less delayed correlation. Building suppliers of these materials almost directly indicate fewer price increases when they see an improvement in their inventories. There is only a time lag of one or two months between the improvement of stocks and price changes. In addition, the value chains first have to start up. This could still take some time after curtailing it, perhaps too much, during the Covid-crisis.
For example, transport is still a big problem. Due to the value chain disruptions, we expect shortages of timber and steel to remain an issue until at least early 2022. Therefore high prices for timber and steel for construction projects will remain for the coming quarters before settling down.
How construction companies cope with procurement price risks
Disclaimer: This publication has been prepared by the Economic and Financial Analysis Division of ING Bank N.V. ("ING") solely for information purposes without regard to any ...
more