Building Material Prices To Remain High Until At Least The Middle Of Next Year
Contractors' input prices are catching up
Construction prices for new residential buildings in the European Union. Quarterly data index 2015=100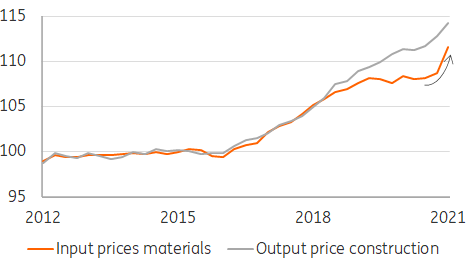 Source: Eurostat, ING Research
A large number of suppliers are still planning price increases
Although there have been some recent price decreases of raw materials such as timber, particularly in the US, and steel, European building material companies are still dealing with higher costs. As a result, many European manufactures are expecting to increase their output prices even more. In July, according to a European Commission survey, some 40% of concrete, cement, and bricks suppliers said they expected to raise their prices even further. For timber and steel, the percentage of companies that expect to raise the sale price is even higher. Nevertheless, it looks like the peak is over for these products but shortages of labor and the uncertain development of the Delta variant could also delay stabilizing or downward price adjustments.
Building material suppliers expect to raise prices further
Balance of manufactures in European Union which expects to increase/decrease output prices (over next 3 months)
Source: European Commission, ING Research
Inventories have to improve first
Before suppliers even think about lowering sales prices, they have to see an improvement in their inventories. That's because a rise in their stock increases the competition and puts downward pressure on prices. For example, at the beginning of the financial crisis, building material suppliers started to see an increase in their inventories from April 2007 but it took until August 2008 before an increasing number of companies were indicating that they planned to decrease those sale prices.
Prices for timber and steel are more vulnerable than those of concrete, cement, and bricks
For steel and timber, there is a global market with a huge number of buyers and sellers. This makes these markets competitive and transparent and this results in a more direct pass-through in the value chain of price changes of raw materials. Conversely, the markets for concrete, cement, and bricks are more local. This is due to the characteristics of these materials. They are large and heavy and therefore difficult and costly to transport. This makes these markets less competitive. The pass-through of procurement price fluctuations is therefore slower. This could also explain why prices of steel and timber have surged more than others, as you can see in our first chart.
Disclaimer: This publication has been prepared by the Economic and Financial Analysis Division of ING Bank N.V. ("ING") solely for information purposes without regard to any ...
more