Building Material Prices To Remain High Until At Least The Middle Of Next Year
It will take at least until the summer of 2022 before we expect the price of some building materials, notably concrete, bricks, and cement, to drop. Construction firms' suppliers first need to improve their historically low levels of inventories. The price of timber and steel will probably settle down earlier.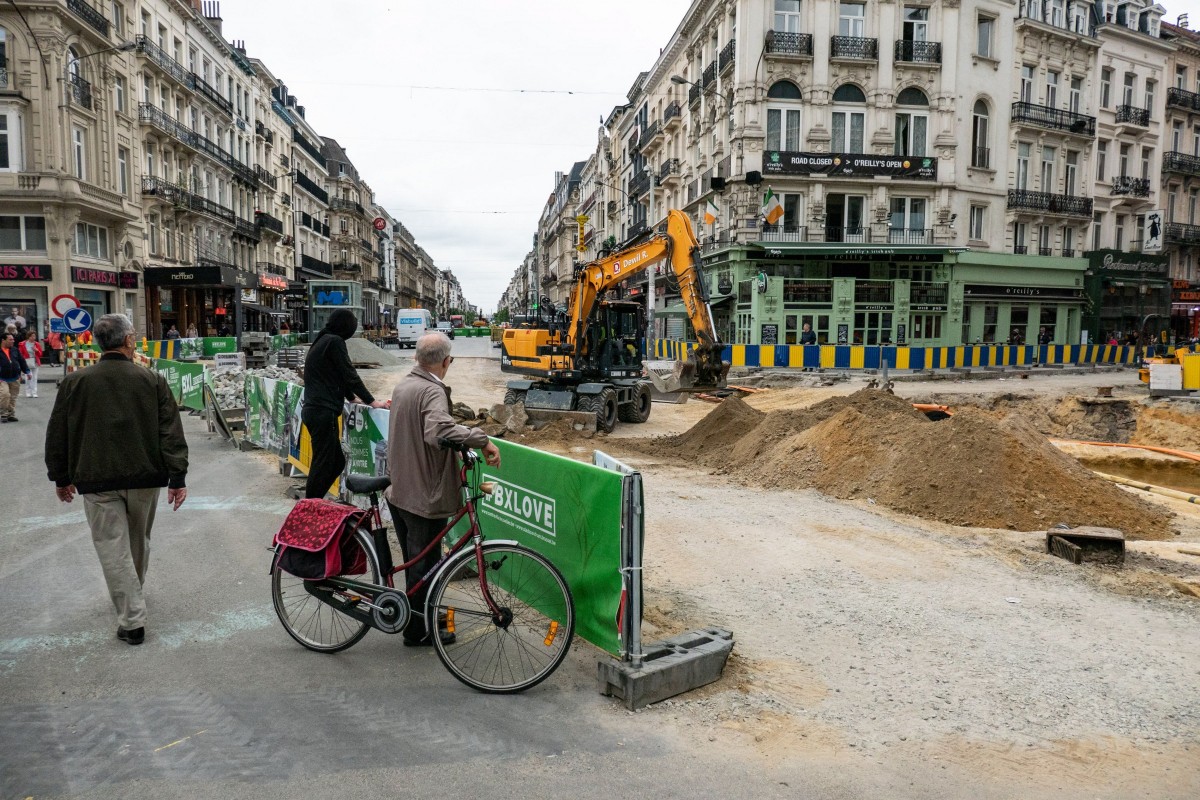 Construction work in the center of Brussels, Belgium
Building material prices have soared
Building material prices have soared over the last six months, along with many other products. The cost of raw materials such as timber, plastics, and steel have particularly surged. Supply chain disruptions, due to the Covid-crisis, decreased the supply of building materials just as output remained resilient during the pandemic. This has resulted in shortages and price hikes.
Raw material prices for metals and timber have come down from recent peaks. However, this is not yet reflected in the producer prices because it takes some time before these make their way through the supply chain. Besides that, the data lags a bit, as July and August producer prices are not published until now and are probably already showing some flattening.
Soaring prices for building material inputs
Producer Price Index in the European Union. Index February 2020=100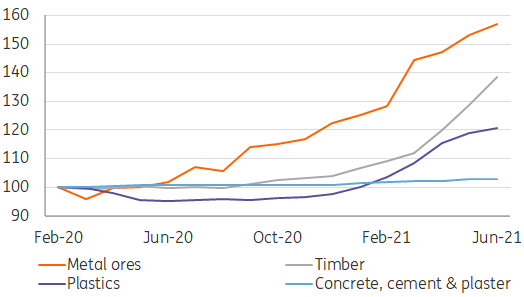 Source: Eurostat, ING Research
Contractors' margins are diminishing
The building materials' price hikes have put building companies' profit margins under pressure. This can easily lead to loss-making projects as profit margins are thin in the construction sector, generally about 2 to 4%. The development of output prices of construction projects and input prices of building materials are in general closely related. However, from 2018 until the end of 2020, contractors' output prices increased faster than the input prices which could have resulted in higher profits. Yet, due to the higher building material costs input prices are catching up quickly and saw their biggest increase in the first quarter of 2021 since 2004 and this puts pressure on those margins.
Disclaimer: This publication has been prepared by the Economic and Financial Analysis Division of ING Bank N.V. ("ING") solely for information purposes without regard to any ...
more