Buffett Is Shortsighted On Airlines: LUV Is A Steal At This Price
Warren Buffett famously advised "be greedy when others are fearful", and we think he should follow his own advice – assuming he is still a long-term investor. Those overlooking Southwest Airlines Company (LUV: $27.56/share), Warren Buffett included, are in the Danger Zone. Those willing to see through the dip should consider adding this Long Idea to their portfolios.
Best in Business Poised for Long-Term Growth
LUV is not only undervalued relative to the S&P 500, but its underlying business is also strong and poised to rebound after the dip. We first made LUV a Long Idea in July 2016. Since then, LUV has underperformed the market (down 36% vs S&P 500 up 31%). However, given its steep decline in 2020, LUV now presents an even better buying opportunity.
Warren Buffett recently made headlines at Berkshire Hathaway's (BRK-A) annual shareholder meeting when he disclosed the firm sold its shares in the four largest U.S. airlines, citing that "the world changed for airlines". While no one can argue with Buffett's statement in the short term, i.e. 6-12 months, we disagree over the long term. Anything better than a worst-case scenario and LUV presents an excellent risk/reward at its current price.
In addition to the advantages outlined in our original report (largest domestic operator, superior record of profitability, smart investments in technology), LUV has a very strong balance sheet, ample liquidity, and is the only U.S. airline to receive an "investment-grade rating by all three rating agencies," which increases its flexibility to raise additional capital should the need arise. There will be some carnage in the airline industry, but LUV is best-positioned not only to survive but also to further widen its advantages over the competition.
LUV's History of Profit Growth
LUV has a strong history of generating consistent profits. Since 2009, LUV has grown revenue by 8% compounded annually and core earnings[1] by 43% compounded annually, per Figure 1. Longer term, LUV has grown core earnings by 8% compounded annually over the past two decades. The firm increased its core earnings margin from 1% in 2009 to 9% in the trailing-twelve-month period (TTM).
Figure 1: LUV's Core Earnings & Revenue Growth Since 2009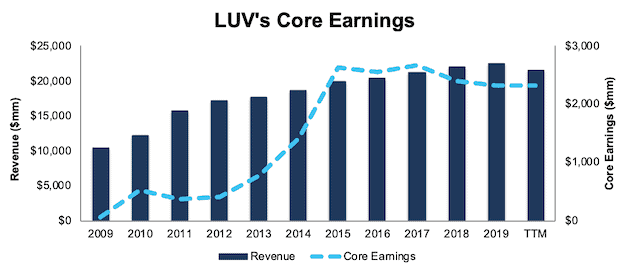 Sources: New Constructs, LLC and company filings.
LUV's profitability helps the business generate significant free cash flow (FCF). The company generated positive FCF in nine of the past ten years and a cumulative $14.6 billion (92% of market cap) over the past five years. LUV's $2.1 billion in FCF over the TTM period equates to a 10% FCF yield, which is significantly higher than the Industrials sector average of 2%.
Executive Compensation Plan Incentivizes Prudent Capital Stewardship
No matter the macro environment, investors should look for companies with executive compensation plans that directly align executives' interests with shareholders' interests. Quality corporate governance holds executives accountable to shareholders by incentivizing them to allocate capital prudently.
In fiscal 2019, performance shares made up 50% of LUV's long-term incentive program. These performance shares are tied to the company's return on invested capital (ROIC). Though ROIC has declined from 15% in 2019 to 12% over the TTM, the focus on improving ROIC aligns the interests of executives and shareholders and helps to ensure quality capital allocation.
Southwest's Balance Sheet Provides Ample Liquidity to Survive the Crisis
LUV has taken steps in recent weeks to ensure it has the cash to survive the current disruption to operations. After issuing debt and drawing down its credit line, the firm had $9 billion in cash on hand by the time of its earnings call in late April.
On May 1, 2020, the firm completed a $2.3 billion public offering of senior notes and a $2.3 billion share offering. In total, LUV has nearly $14 billion in cash on hand, which includes half of the $3.3 billion in relief aid the firm has already received through the government's Coronavirus Aid, Relief, and Economic Security (CARES) Act. The CARES Act also offers LUV the option to accept an additional $2.8 billion loan by September 30, 2020, should the firm so choose.
During its earnings call, the firm estimated that its daily cash burn was $30 to $35 million per day. In a worst-case scenario where LUV pays down its current debt, generates no revenue, and incurs expenses of $35 million per day, LUV could operate for over fourteen months with its current cash balance and pending $1.6 billion of remaining CARES Act relief before needing additional capital. It seems unlikely that LUV's revenue would go to zero since the firm is currently operating (albeit at a diminished rate) flights. Additionally, LUV would be able to reduce some of its operating expense should a worst-case scenario emerge.
Disclosure: David Trainer, Kyle Guske II, and Matt Shuler receive no compensation to write about any specific stock, style, or theme.