Boxlight Is Still Attractive
Summary
Despite a disappointing Q1, we think Boxlight is still an attractive buy as the bad quarter isn't likely to be the harbinger of a structural problem.
There was a nice uptick in gross margin, and if the growth resumes, there is a path towards cash generation exiting the year.
At just over 1x sales, the shares are not expensive.
Boxlight (BOXL), the maker of educational technology, had a pretty rough Friday. Its earnings and profits (or, rather, the lack of these) disappointed and the shares spiraled down, only to revive later when more information from the conference call became known.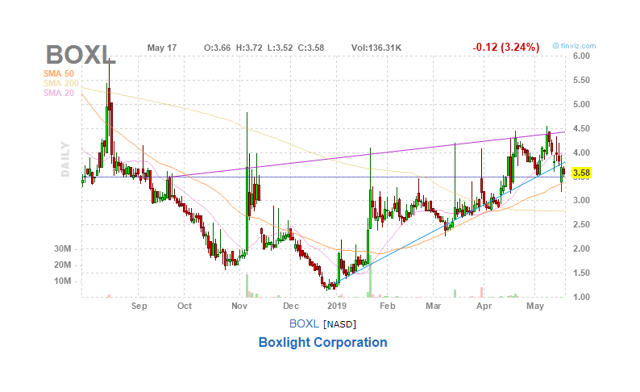 Boxlight is a recent addition to the SHU portfolio; on April 5 of this year, we bought 3,500 shares for $3.05. So we look at whether the growth prospects for the company have changed. That doesn't look like what's happened.
In pondering our usual five-year overview, one must realize that a substantial part of the revenue growth comes from acquisitions, hence the GAAP operational deterioration: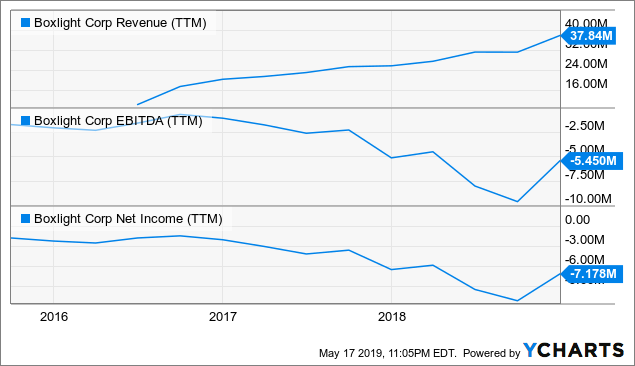 Data by YCharts
Q1 Results
The (seasonally weakest) Q1 results weren't pretty, with a notable 16.5% revenue decline missing expectations by $1.65M and a considerable GAAP earnings miss. However, things aren't as bad as they seem, as quarterly results can vary and there is a degree of lumpiness in the orders:
Some large contracts got delayed, but management fully expects them to materialize during the year.
Q1 of last year was the opposite, hence the difficult comp.
They did reaffirm their full 2019 guidance (+25% revenue growth to $47M).
And it's not that they're not winning new contracts:
An $860K contract with Clayton Country School District.
A contract with Colorado's Cooperative Educational Purchasing Council.
Michigan's REMS Association rewarded the company a contract including Boxlight ProColor 65-inch and 75-inch panel, Mimio Teach, MimioBoard and Mimio Interactive ultra-short throw projector.
Charter School for Applied Technologies, the largest chartered school group in New York City.
Chesapeake Public Schools in Virginia with 39K students.
An additional contract for 6,000 installations of flat panels in the San Diego Unified School District.