Yields Slide As Doubts Grow Over Biden Infrastructure Plan
Last week we asked if Biden's $2.25 trillion "Infrastructure" plan, also known as the American Jobs Plan (not to be confused with its sequel the American Family Plan) will pass Congress, and observed that the plan's fate will ultimately depend on how centrists such as Joe Manchin and Kyrsten Sinema end up voting:
Centrist Senators such as Joe Manchin and Kyrsten Sinema, who also featured in Rabo's American Rescue Plan report, may be difficult to keep on board. In other words, while the American Jobs Plan has the potential to unite the Republicans in their opposition to Biden, it will also put tremendous pressure on the internal relations between the left and the right of the Democratic Party.
Since then, amid increasing criticism by progressives (and outright opposition by the GOP) of the Biden infra plan, the market appears to have repriced the likelihood of the $2.25TN plan passing, with Bloomberg yesterday noting that "the response so far in bond markets has been muted, with inflation concerns easing amid doubts over the viability of more-generous spending, even as central banks remain committed to keeping interest rates lower for longer."
It is these growing doubts about the passability of the Biden infrastructure plan that explains why yields dipped on Monday despite the blockbuster jobs report, and why both 5Y and 10Y yields have slumped further today.
(Click on image to enlarge)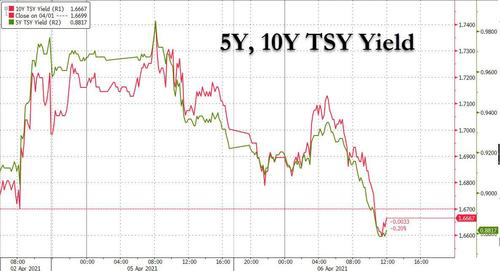 Adding to the skepticism that the Biden deal will get done, in a note from Capital Alpha Partners analyst Byron Callan, he wrote that the federal infrastructure spending bill proposed by Biden "has no straight easy path to approval in 2021."
"The notion that there is broad bipartisan support for infrastructure in Congress is a canard," Callan said, noting in 2017-2020, that bipartisanship on infrastructure had melted away over how to pay for it, what comprised infrastructure, roles for the private sector versus government, regulatory changes, urban versus rural needs, and red state versus blue state posturing.
Disclaimer: Copyright ©2009-2021 ZeroHedge.com/ABC Media, LTD; All Rights Reserved. Zero Hedge is intended for Mature Audiences. Familiarize yourself with our legal and use policies every time ...
more