Why Not Sell Savings Bonds To Support Infrastructure Spending?
A key issue as the prospective bill works its way through Congress next year will be the source and nature of the funding that must be raised to support such a huge spending program. Mr. Trump has already indicated that he favors a public/private partnership approach to funding the major infrastructure projects, which if successful would cut the required funding substantially. However, it is not yet clear how private investors would make money on such projects, since recent experience with similarly funded projects has not been very encouraging.
Perhaps enough tax incentives can be provided to make these prospective new public/private partnerships profitable to the firms that take on that risk. But it also seems to me that there are other potential sources of funding that have not been effectively tapped in recent years.
During World War I, a series of US Treasury issues called Liberty Bonds raised $21.5 billion from the public to fund the war effort, at a time when the federal budget in the year before the war was a grand total of $970 million (Source: Wikipedia). So that means the bonds raised 22 times the annual federal budget in just a few years. In 1935, Franklin D. Roosevelt signed a bill authorizing the sale by the US Treasury of the first modern savings bonds.
In World War II, the Series E War Bonds were sold to 85 million Americans and raised a total of $185 billion for the war effort. This is an amazing amount, because it represents a staggering 73% of the total debt ($251 billion) raised by the government to fund the war (Source: Wikipedia).
World War II War Bond Ad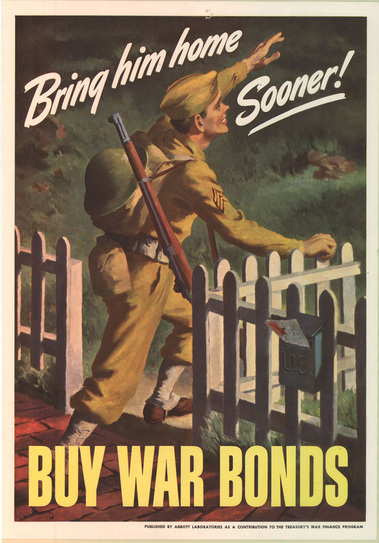 With this kind of response in a time of great need, and given the huge support for infrastructure spending in both major parties and the electorate right now, isn't it likely that significant amounts could now be raised to support the notion of "making America great again?" What might happen, if Mr. Trump asks the average American to buy a 10-year or 20-year savings bond as a patriotic contribution to our collective goal?
Disclaimer: This article is intended to provide information to interested parties. As I have no knowledge of individual investor circumstances, goals, and/or portfolio concentration or ...
more