Why Is The Fed Selling Its Holdings Of Corporates?
Flows into and out of mutual funds in the past month
(Click on image to enlarge)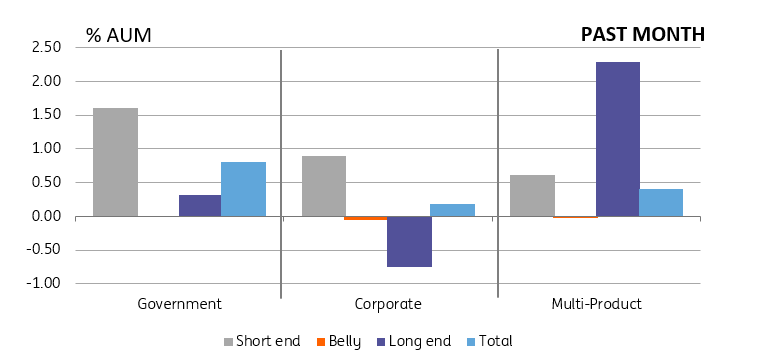 Source: EPFR Global, ING estimates
This is effectively tidying up exercise for the Fed, into a strong market for credit. Flow data show a very strong demand for front-end paper, as can be gleaned from the graph above (center section has corporates). The bulk of the cash inflows into corporates have been into shorter-dated maturities.
The corporate bonds held by the Fed are generally short in maturity, with most maturing in the next 2-4 years. The average maturity is a little over two and a half years.
In terms of the Fed's holdings, the graph below has an illustration of the sector breakout, which shows broad-based holdings not dramatically deviant from wider market capitalization weightings.
What the Fed holds in terms of corporates by sector (USDbn)
Source: Federal Reserve, ING estimates
In terms of quality breakout, the Fed's bond holdings are 40% single-A or better and just under 58% are BBB (remaining 2% is high yield); clearly investment grade, with a decent quality tilt. There should be no issue getting this paper back into the market in current circumstances.
If there were to be any hiccup here in terms of market stress of whatever description, it is our opinion that the Fed would hold off on being a seller for a period. There is no mad rush to get this trade done, and so it will only get done when it is conducive to do so.
And finally, there is no direct signal here for the bigger bond-buying (QE) program. The QE program is a part of wider monetary policy setting, while the corporate buying program was more a focused technical rescue. At the same time, it does push in the same direction as bigger picture tapering, as both are effectively policy unwinds. But all things considered, one does not have a direct signal for the other.
Disclaimer: This publication has been prepared by the Economic and Financial Analysis Division of ING Bank N.V. ("ING") solely for information purposes without regard to any ...
more