Where Wall Street Thinks The Biggest Bubble Is
We are in bubble territory. Earlier today, coinciding with the release of the latest Bank of America Fund Manager Survey, Deutsche Bank also published its latest monthly survey (Jan. 13-15) polling 627 market professionals, which found that just 12% of respondents saw no bubbles in financial markets.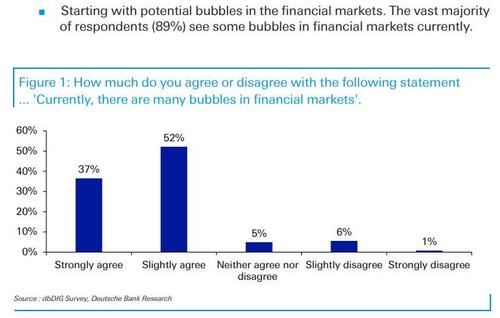 So with almost 9 out of 10 survey participants now agreeing that there is a bubble, where is it? According to DB's survey, 50% of investors gave Bitcoin (BITCOMP) the maximum 10 out of 10 bubble rating with an average score of 8.7. Not surprisingly, this confirms the finding from BofA's own survey, according to which sees Bitcoin as the "most crowded trade."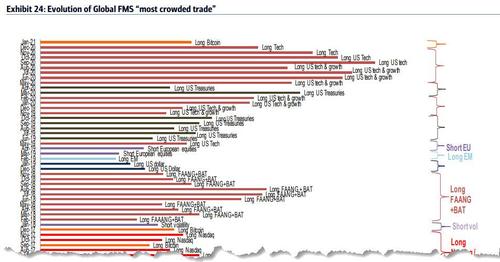 Perhaps this is just Wall Street projecting, eyeing those who are long cryptocurrencies, even as most professionals refuse to chase the cryptocurrency ever higher while piling into such bubble names as Tesla (TSLA).
Not surprisingly, and also identical to the BofA survey, US tech equities saw a 7.9 score on this scale. 83% scored it at 7 or above. The third highest was European government bonds, which was 'only' at 6.2. This was followed by US and European credit.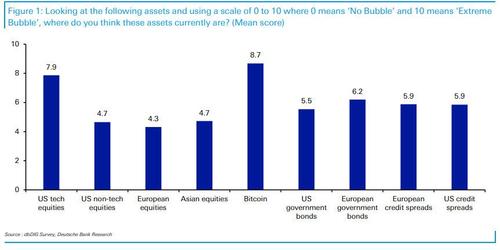 Some other findings from the full survey:
Most didn't see a taper tantrum in 2021 (55%), but a sizeable minority did (33%). 71% didn't see the Fed actually tapering in 2021.
Inflation expectations were the highest since DB started asking the question.
Three-month positive sentiment in US/Euro equities hovers around the survey history highs, but positive 12-month sentiment continues to dip from its November peak.
Three- and 12-month expectations for US/Euro bond yields are all at survey high levels. So, higher yields is certainly a heavy consensus.
Disclaimer: Copyright ©2009-2021 ZeroHedge.com/ABC Media, LTD; All Rights Reserved. Zero Hedge is intended for Mature Audiences. Familiarize yourself with our legal and use policies every ...
more