We Very Likely Have Seen An Equity Market Peak As Biotech, Junk Fall Along With Bond Yields
It did look at that time that ESc1 and NQc1 still needed to complete their wave 5s, and therefore did make new higher highs, but it seemed to us that RTY and Dow futures were done completing wave 2s structures (next wave 3 downside), therefore Biotech (which are good proxy to bond yields) should be sold, which we did, large.
To round up the evidence that a significant market peak is on process on January 22, we added the monthly Federal government expenditures outlay to the mix. We previously described government budget outlays as the ultimate liquidity source, as it is the prime mover of the SOMA POMO transactions, and therefore the prime mover of the changes in the Fed's bank reserves and Treasury cash balances.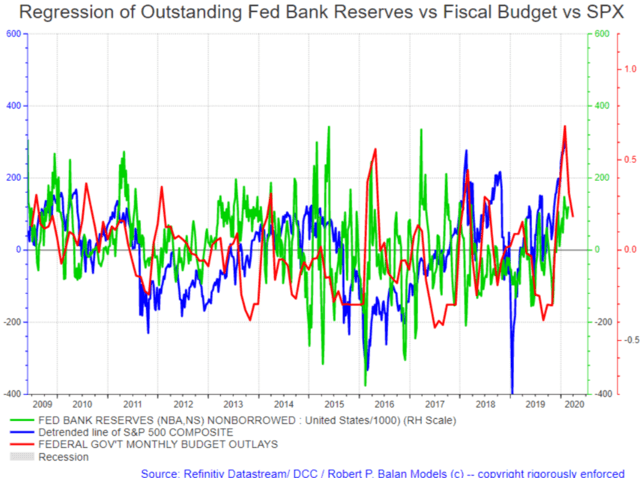 The flow from this overarching source of liquidity is obviously fading, and risk assets prices and bond prices should start feeling the underlying drought - that may have already started on January 22.
Conclusion
If the change in rate of federal government expenditures is fading, then the primary generator of POMOs which create the bank reserves that the markets so crave as a measure of liquidity will not be there to bail the market out.
If the Fed is starting to claw-back the flood of liquidity which it unleashed on Q4 2019 to calm the repo market, then falling volume of assets and liabilities is evidence that the Fed's "put" on the equity market is being dismantled.
Therefore, bank reserves and Treasury Cash Balances (TCB) will fall significantly very soon. Falling bank reserves and TCB wreak havoc on risk asset prices and will depress bond yields.
The blow-off stage has come to pass on January 22, the grand sell-off has started, and so we have correspondingly positioned to the downside as promised. We will track the market course lower, and when the time has come to take profits, and reverse course, we will duly inform you. We have the tools to do that too and will publish when we see it happening.
Disclosure:
I am/we are long GOLD, BONDS, EURO.
I wrote this article myself, and it expresses my own opinions. I am not receiving compensation for ...
more