We Very Likely Have Seen An Equity Market Peak As Biotech, Junk Fall Along With Bond Yields
With structural changes being proposed to prevent the repo market from blowing up again, there will be less and less future demand for ultra-short term loans to prop up the market, if financial institutions can go directly to the Fed to borrow repo loans. That also removes the incentives for large banks, like JPM, to squeeze the repo market for their own benefit and would presumably prevent frequent repo market seizures, as in the recent past.
That makes it very unlikely that the Fed will repeat the events of Q4 2019 in the repo markets, when it was forced to intervene with large-scale liquidity infusions to prevent a repo market blow-up.
That will take away systemic liquidity that has been taken for granted by many market participants as given, as in memes like "QE Infinity". After March 2020, there will be a new game in the Fed's supply of funds, especially if Q4 2019 GDP will be significantly higher than those seen in Q3 (see chart below).
There will be less liquidity sloshing around.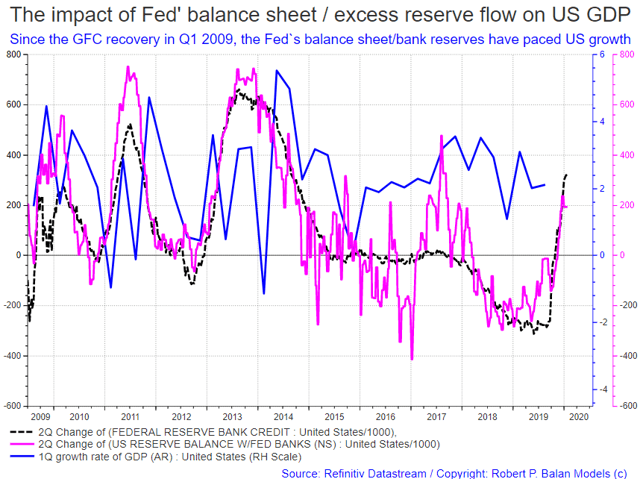 The notion of a market top on Jan 22 was supported by the systemic liquidity situation
More importantly, the EWP projections and reduction of repo purchases dovetail with the plethora of analyses which we have done previously, pointing to a significant peak in equities which was in the process of forming.
From a systemic liquidity point of view, we were indeed confronted with the likelihood that we are seeing an equity market top at that time on January 22 (see the two following charts below).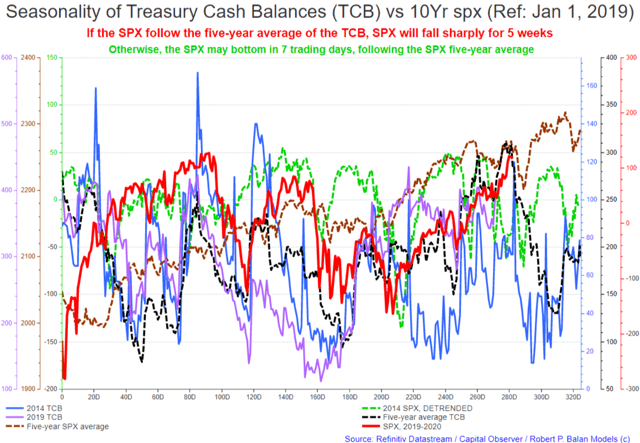 A sharp fall in bond yields applies the same developing negative liquidity conditions to the equity markets. That is in addition to the negative effect of falling yields on several important market sectors.
You will also see in the chart above that the SPX has reached the confluence of the apexes of its five-year average and those of the liquidity flows from the Federal Reserve and the US Treasury. The liquidity flows are turning against the markets.
The situation in yields was the most significant price development since Friday, January 17. If the 10yr yield follows the trajectory of outlier 2014 yield or five-year ave, yields will fall sharply. Otherwise, the 10yr yield may bottom next week, following the trough of the 10yr yield five-year average.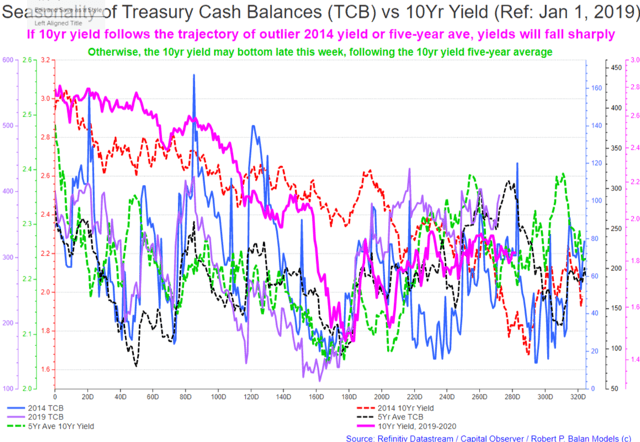 These conjectures for possible bottoms in SPX and the 10yr yield in the subsequent sell-off are here for the sake of being thorough. The reality is that most of the evidence pointing to a peak at that time, on January 22, also argues for a major trough appearing only in mid-March.
Fine-tuning the topping out process
Disclosure:
I am/we are long GOLD, BONDS, EURO.
I wrote this article myself, and it expresses my own opinions. I am not receiving compensation for ...
more